Mazpahs Siamese, Orientals and Bicolours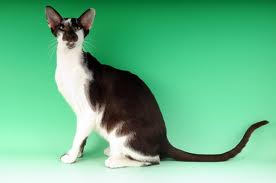 UK Imperial Gr Premier Mazpahs Rebel Roy
My name is May Ellis, and my registered prefix is Mazpahs (Mazpahs Siamese, Orientals and Bicolours).

Mazpahs has many years experience in the breeding and showing of Siamese and Oriental cats, and producing healthy, confident, loving kittens.

All my kittens are reared with love in my family home and leave at 13 weeks fully vaccinated, insured, GCCF registered, litter-trained and vet checked.

Mazpahs has produced many titled cats in the UK and abroad, with over 30 years experience in breeding. The passion for this wonderful hobby is still very important to me.

I introduced the beautiful Bicolours and Seychellois to my breeding plans, and to date have had some wonderful success.

I am very proud to say that I bred the first Bicolour to gain titles in the UK - Imperial Gr. Premier Mazpahs Rebel Roy, a chocolate and white Oriental Bicolour.

I have Siamese and Oriental studs to suitably tested queens. The boys are proved studs and FIV- and FELV-tested negative.

I still find time to do some voluntary work by vetting prospective adoptive families for both cats and dogs needing new homes - hundreds of unwanted animals have now found wonderful homes.


To contact this breeder:
Please use the details below
or visit the breeder's own website using the link provided:
Mazpahs Siamese, Orientals and Bicolours
May Ellis
Bolton, Lancashire
Tel: 07776 155356
Email: mazpahs@hotmail.co.uk
Website:
www.mazpahssiamese.co.uk

***************

Have You Discovered Our Newsletter?
If not, why not? Subscribe to our email newsletter, Meezer Musings, to stay in touch, be the first to see new information and pages as they come out, and read the things we only talk about in the newsletter.

Learn more about it on our Newsletter Sign-Up page.