Miso, The "I Hate Mondays" Lynx Point Siamese
by Miranda
(Louisville, KY)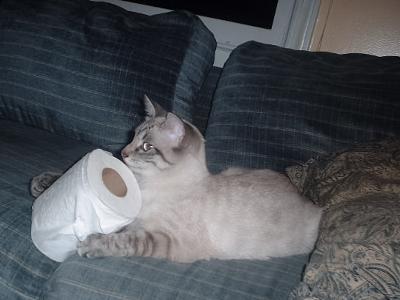 Miso is 7 months old; a lynx point Siamese, I adopted her through a feral rescue agency in Ohio who trapped her mother (who was later spayed, vaccinated and released); her sister, another lynx point; and her solid black brother.

She loves to fetch her gray felt mouse (but not the blue one!) and knows several words. She actually does not like riding on shoulders or even really being held unless it is her idea, but she loves sleeping under the covers with me at night.

She enjoys interacting with one of my other cats, Irving, but torments my other boy Vermeer who has never really become "socialized".

To avoid getting a swat in the face, Miso backs into his box, pretty smart!
Have You Discovered Our Newsletter?
If not, why not? Subscribe to our email newsletter, Meezer Musings, to stay in touch, be the first to see new information and pages as they come out, and read the things we only talk about in the newsletter.

Learn more about it on our Newsletter Sign-Up page.