Morning Ritual
by Robbin
(Prescott Valley, AZ)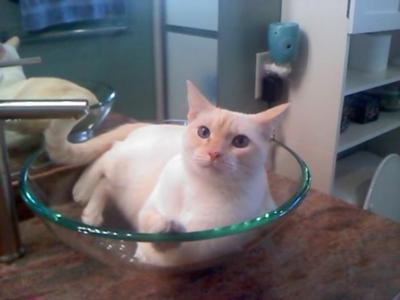 Cat in the sink!
I adopted Jerry (a flame point Siamese) 2 years ago from the Humane Society. I have an older cat named Ozzie and felt he needed a playmate.

I recently moved and Jerry and Ozzie have a morning ritual. Every morning when I get out of bed and go into the bath to shower they follow me in.

Ozzie sits on the floor waiting for me to finish. Jerry curls up in one of the bathroom sinks and waits for me to finish.

Once I get out of the shower, Ozzie leaves and goes about his day and Jerry jumps to the other sink and waits for me to turn it on! He loves to drink out of the sink!!

This is a picture from one of the first times I "caught" him in the sink!
Have You Discovered Our Newsletter?
If not, why not? Subscribe to our email newsletter, Meezer Musings, to stay in touch, be the first to see new information and pages as they come out, and read the things we only talk about in the newsletter.

Learn more about it on our Newsletter Sign-Up page.