My Baby Po
by Josie Lu
(Leeds, Alabama)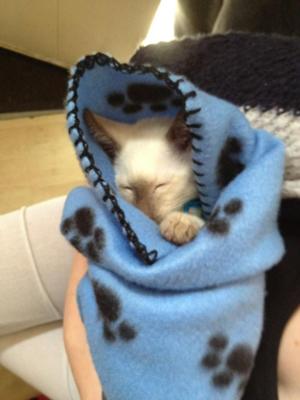 Two years ago I sadly lost the most beautiful cat I had ever had. She was pure white and looked like she had Siamese in her. We named her Princess, and she really lived up to her name.

A few months ago, I came across a picture on the Internet of a similar cat that had been found - I thought it may have been her, and maybe she had been stolen rather than killed on the road like a person had claimed.

It turned out not to be her, but on the same site I came across a picture of a pregnant Siamese. Her beauty caught my eyes. Her owner had bred her and was selling the kittens.

I felt drawn to the phone number, and phoned it. Over the next few weeks I became good friends with the lady and I eventually got my kitten.

And let me tell you, I am soooo in love, he is a Chocolate Point and has Grand Champion bloodlines. He is amazing, and so loyal. He gets on with all the family and with our other cat Chloe, who misses Princess dearly.

I feel that Princess guided me to this little fella, and it's very strange as well that since Princess died, my cat Chloe has hated other cats, but took to our new little fella within two days.

So this was fate :):)

Now I feel as if my Princess is still around through Po. Even the way he looks at me reminds me of her and he's so clingy to me, as if he's so happy to be here.

I do believe everything happens for a reason. For people that are still grieving for their loved pets that have gone to wait for you at Rainbow Bridge ... "As one door closes, another one opens, and as one pet passes another one arrives."

I wasn't looking for Po, Princess chose him for me and guided me to him.

For some reason this site won't let me upload pics. I'll keep trying so I can show you all how amazing he is. xx


Reply from Caroline:
Josie Lu, here's your story! Thank you so much for sharing it. I know you've had trouble uploading your pictures, but as you'll see I managed to transfer some of your photos from Facebook for you, and I hope you like the result.
Po is a little darling - such a very cute face and ears! It's great that he gets on so well with Chloe and all the family.
If this spoke to you, you might also enjoy:
Return to Miscellaneous Stories.
---
---
If you enjoy our work, why not
sign up for our newsletter,
Meezer Musings?

An opportunity to share my reflections on life with
Siamese cats, stories in the news, photos, tips, goodies,
and our Meezer of the Month!

---
Like us? Please share us with
your Siamese cat-loving friends


---

Home  .  Sitemap  .  Privacy Policy  .  Affiliate Disclosure  .  Resources  .  About  .  Contact
Information provided on this website is not intended to replace professional advice. If you have any concerns at all about your cat's health, please consult a vet.
Copyright © 2009-2019 Caroline Haines, Life with Siamese Cats. All rights reserved.


---