My Little Hero
by Emily Esparza
(Spanish Fork, Utah, USA)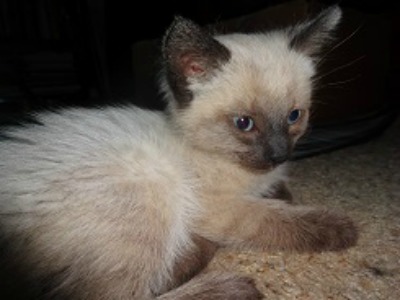 This is the story of how I got my little kitten Alloy.

It was the end of the school year and my ninth grade biology class was hatching chickens. When my chick hatched I was super excited and begged my parents to let me keep it.

My cat out of our three cats had been missing for a little over a month - Brisk was really attached to me and had never been gone for so long so we assumed she wasn't coming back. I was upset over this so my parents decided to let me keep my little chick.

I loved my little chick which I named Area to death. But one night while I was sleeping my poor little baby fell into its water dish and died. I cried for hours missing my little one.

To try to distract myself from Area's death I went shopping with my parents. While we were heading home we stopped by our local pet store. I remembered going there the day before with my friend and seeing two adorable Siamese kittens.

When I went in with my parents there was only one left. My parents decided to get the little kitten for me. When we bought him from the store they only said that the kitten was a male and that was it. When we got home I first named my kitten Aoi because it means blue in Japanese, and he had bright blue eyes. But Aoi was too hard for my younger sibling to say so I renamed him Alloy.

Alloy really helped me through the sorrow of losing my little chick and my cat. He's super hyper and likes to jump and climb my leg. Alloy loves to sit on my shoulder and sleep there - in fact he's doing it right now.

After researching Siamese I think he's a Seal and about twelve to thirteen weeks old. He has the cutest little high pitched meow, and he's normally quiet unless you get him on a roll.

Alloy has saved me in many ways and I'm excited to have my first Siamese cat.
Have You Discovered Our Newsletter?
If not, why not? Subscribe to our email newsletter, Meezer Musings, to stay in touch, be the first to see new information and pages as they come out, and read the things we only talk about in the newsletter.

Learn more about it on our Newsletter Sign-Up page.