My Shadowcat
by Donna O'Connor
(Bainbridge, NY)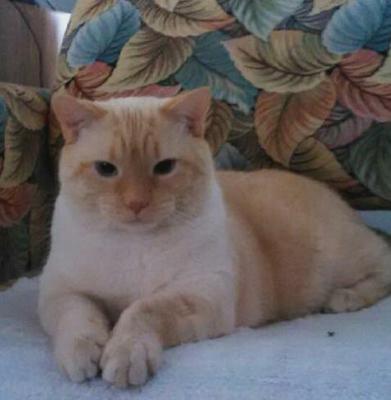 Shadow
At 11:30 p.m. on Christmas Eve 2013, my daughter heard a tiny meow from behind the trailer lattice. She asked me if we could keep this little cream-colored kitty and I really didn't want to because I already owned two other cats.

But we kept him and he was my gift from God; he passed away September 28, 2016 due to congestive heart failure. He was only three or four years old.

I never felt heartbreak in my entire life until the night he died. He was such a great addition to our little family and I am ever-so-thankful my daughter begged me for him because he turned out to be my best friend. I've never had a cat touch my heart the way he did and I miss him so, every minute of every day.

I hope he knows how much he's missed and how special he was, especially to me. He did so many silly things, like play in the water bowl and get the walls and floors all wet. He would put his paw on the top of my head and run his nails down through my hair until I petted him.

He was the reason I found out that there was such a thing as a flame point Siamese. They are such beautiful cats and I never had any idea they existed.

Since then I found another flame point at an animal shelter - we named him Shiloh. He's a male too, the same age as Shadow, and looks very similar. He will never replace Shadow but strangely enough, he's doing a lot of things that Shadow did and he even sleeps in all of Shadow's special places.

The only special place now that Shadow lives is in my heart ......


Reply from Caroline:
Donna, thank you so much for sharing Shadow's story with us. I'm so sorry he was taken from you so early in his life but the main thing to remember, I think, is that he loved you and was loved in return, and he would never had had that if you hadn't taken him in. Your photo of him is beautiful.
It's interesting (and some would say, no coincidence) that Shiloh shares many of the same habits and behaviors as Shadow; our departed cats do seem to find a way of telling us they're still with us in spirit, even if no longer in body. They never really leave us.
Thank you for rescuing both Shadow and Shiloh - so many cats are abandoned or end up in shelters and never have a chance at life. I really hope that Shiloh enjoys a long and happy one with you.
For similar stories, see also:
---
---
If you enjoy our work, why not
sign up for our newsletter,
Meezer Musings?

An opportunity to share my reflections on life with
Siamese cats, stories in the news, photos, tips, goodies,
and our Meezer of the Month!

---
Like us? Please share us with
your Siamese cat-loving friends


---

Home  .  Sitemap  .  Privacy Policy  .  Affiliate Disclosure  .  Resources  .  About  .  Contact
Information provided on this website is not intended to replace professional advice. If you have any concerns at all about your cat's health, please consult a vet.
Copyright © 2009-2019 Caroline Haines, Life with Siamese Cats. All rights reserved.


---