My Siamese 'Gifts' - Pure Heaven!
by Anthony
(Manchester, UK)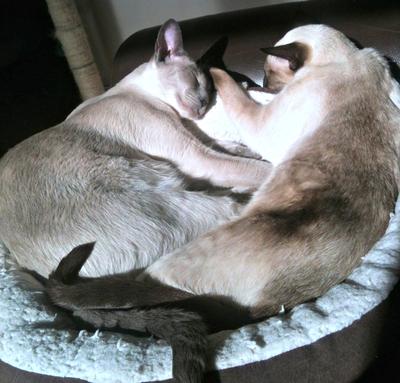 Millie and Mojo
I was alone, and feeling sad and suffering from depression. Then out of the blue I was given the chance to adopt my two Siamese girls, Millie and Mojo.

A seal point and a lilac point ... and how they have melted my heart and changed my feeling, not just about myself but about others!

Whoever says cats are bad must have a bad soul. Siamese cats are sent to care for us just as much as we care for them. For the cost of a little food, a warm home and a little love from me they give so much back.

A kiss from both of them in the morning to wake me up for breakfast, and hours of non-stop play late at night when I wish to go to bed. (They are wicked, they always seem to play when it's time to go to bed!)

It makes me smile a great deal - something I have not done in a long time.

Millie is four and Mojo is two. They have been sent to me for a reason - so many many happy years to come.


Reply from Caroline:
Thank you so much for your story, Anthony, and for telling us about Millie and Mojo.
I agree that Siamese cats are able to lift the saddest of hearts with their games and antics! I was just thinking earlier today how much our own cat has completely changed our lives.
How lovely that you have two Siamese cats - they do enjoy company and Millie and Mojo look so comfortable snuggled up next to each other in your photo.
I hope, too, that they'll be with you and lifting your spirits for a long, long time to come!
Mentioned in this story - learn more about:
Have You Discovered Our Newsletter?
If not, why not? Subscribe to our email newsletter, Meezer Musings, to stay in touch, be the first to see new information and pages as they come out, and read the things we only talk about in the newsletter.

Learn more about it on our Newsletter Sign-Up page.