Our Birman / Snowshoe Siamese
by Daniel Conarroe
(Nanoose Bay, BC, Canada)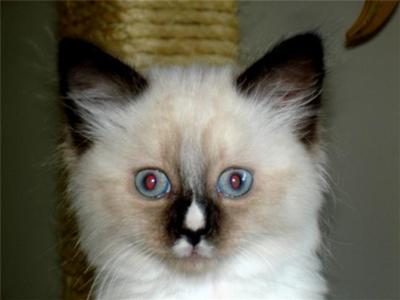 Lovely Baby (Yuuki)
We love our cat! Her name is Yuuki, and she is very unique.

After adopting adult cats over many years, we decided to get a kitten, hoping it would grow up loving our aging dog, which she does. Yuuki, or "Lovely Baby", (one of her many nicknames) is the sweetest cat ever, but only to my wife and I. She is wary of strangers.

Her fur is extremely soft, and her tail is like a plume, she talks, chirps, and is very gentle with her claws.

We aren't sure what the other kittens were, or the parents, but I think she is somewhere between a Birman and Snowshoe Siamese. Her fur was lighter, as a kitten, and has darkened with age.
---
---
If you enjoy our work, why not
sign up for our newsletter,
Meezer Musings?

An opportunity to share my reflections on life with
Siamese cats, stories in the news, photos, tips, goodies,
and our Meezer of the Month!

---
Like us? Please share us with
your Siamese cat-loving friends


---

Home  .  Sitemap  .  Privacy Policy  .  Affiliate Disclosure  .  Resources  .  About  .  Contact
Information provided on this website is not intended to replace professional advice. If you have any concerns at all about your cat's health, please consult a vet.
Copyright © 2009-2019 Caroline Haines, Life with Siamese Cats. All rights reserved.


---