Princess Waterlily - Lily, Our Cat
by Natassia
(Ottawa, ON, Canada)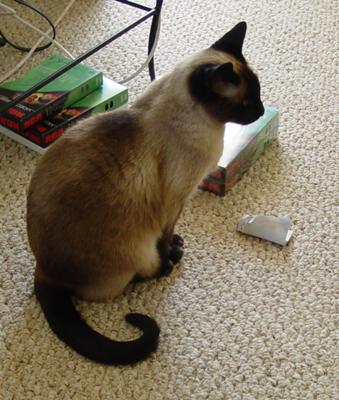 Princess Lily, sitting pretty
My Siamese cat, Lily (her full name was Princess Waterlily, which was fitting) came home from a business trip in my mom's pocket - my mom sold cat and dog food to breeders.

Lily was the runt of the litter and small enough to fit in one of my hands. I was eight at the time, so my hands were small, too - and my parents were a bit concerned because we had two medium-sized dogs that were just wild.

It didn't even take a week for her to realize she could have those dogs running from her with just a swift swipe at their noses!

Lily was always the boss of the neighbourhood. She stayed so small that even when she was fully grown people would confuse her for a kitten, but she never let that get in the way of her ruling all the pets and animals in the area.

No animal dared to enter our yard, and Lily would regularly patrol the blocks surrounding her kingdom to make sure everyone fell in line.

When we lived in the country she even once brought home a dead bat. When she was outdoors she wouldn't cuddle or acknowledge us, she was too busy with her kingdom to pay much attention to her silly humans.

That said, when she was indoors she soaked up attention and was very much a part of the family (every bit the Princess too, she had a lot of sass to her).

If someone was sad or upset, she was always there to quietly cuddle until the person felt better.

Every night she would do a rotation, spending a few hours sleeping in each person's bed to make sure her family was okay - until she was about fourteen anyway, when she started just sleeping in my bed the whole night through, and biting my hand if I didn't let her under the covers fast enough.

She was a bit of a bed hog and would slowly push you to the edge of the bed, until she was lying in the middle of it.

Lily was friendly and loved by every person who ever met her. She was what my grandmother would call a 'character.'

She was always very affectionate, even with new people (as long as her family seemed at ease with them) but she was also prone to annoyance with her silly humans and known to bite on occasion when she felt shouting wasn't working.

She mellowed a bit with old age, but we were all a little worried with how she would handle my nephew when he was born; she was always a cat with little patience for anything that annoyed her.

We were all surprised, though, with just how patient she was with my nephew, Yazin. From the first moment he came home she came right over and knew he was family.

She would sit beside whoever was holding him, and she would sit watching him when was in his carrier or laying on the floor (attempting to learn to roll over) and wouldn't let anyone near him that wasn't up to snuff on her inspection.

When he got a little more mobile, she would sit by him even when he pulled on her ears and tail; she never made a single move to bite or scratch him no matter how much she loathed the rough treatment (she would bite an adult if they were close enough for not stopping the treatment fast enough).

It was the most amazing thing to watch.

I always considered Lily a part of my family, all of us did, it was impossible not to as she wouldn't take no for an answer.

I always felt a special bond with her; she always spent most of her time with me, which was odd because I was the only one who would tell her no to something she wanted and not cave to her whining.

But seeing how good she was with Yazin, how she protected him and endured his rough handling, I couldn't help but love her even more.

She died about a year after Yazin was born. Her kidneys failed and she stopped eating.

We always thought she'd reach the grand old age of twenty at the very least, because she wasn't prone to letting anything get in her way.

I'll always be sad that Yazin didn't get a chance to know her when he was a little older, but remembering how much Lily cared for him makes me glad she lived to meet him.

I literally have a million stories about Lily; we had her with us for sixteen years and I still miss her biting my hands until I let her under the covers at night.

I miss her meowing, which was horrendous because she must have been all lungs with how loud she could get (forget baby crying, she sounded like a cow dying when she wouldn't get her way).

I miss her snoring sometimes when she was laying out for a nap.

We were lucky though. I'll never have another cat quite like her, but I can't imagine having any kind of pet aside from a Siamese, after having her.


Reply from Caroline:
Thank you Natassia for your lovely story of Lily - a beautiful tribute to a beautiful cat. Lily sounds typically Siamese - all that you said about her rings very true and I'm sure all Siamese cat owners would recognize many of her character traits!
It's great that you have so many happy memories and I hope one day you'll have another Siamese cat in your life.
Have You Discovered Our Newsletter?
If not, why not? Subscribe to our email newsletter, Meezer Musings, to stay in touch, be the first to see new information and pages as they come out, and read the things we only talk about in the newsletter.

Learn more about it on our Newsletter Sign-Up page.