Rescued Pregnant Siamese Cat - Is Zoey a Snowshoe?
Rescued Pregnant Siamese Cat - Is Zoey a Snowshoe?
by Lori
(NC)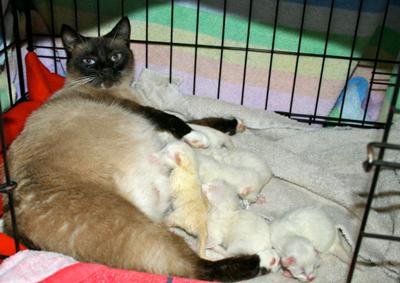 Snowshoe Siamese? Zoey and her kittens
Here is Zoey, who we rescued three weeks ago. She just gave birth to seven kittens - all white (the tan one is really white but mama was too tired to clean it thoroughly).

Is she considered a Snowshoe Siamese because of her white paws?

She doesn't have the signature white marking on her snout so I'm not sure. She just has a little white mark under her chin. We are in love with her and will keep her and one kitten.

Do you think her kittens are pure Siamese since they're all white?

We plan to spay/neuter all before adopting them out. Any info on her and her kittens' breed would be helpful. Thanks.
---
---
If you're enjoying your visit, why not
sign up for our newsletter,
Meezer Musings?

Reflections on all aspects of life with Siamese cats, from stories in the news to cat care tips, books, photos, and other goodies!

---
Like us? Please share us with
your Siamese cat-loving friends!


---

Home  .  Privacy Policy  .  Affiliate Disclosure  .  Sitemap  .  About  .  Contact
Information provided on this website is not intended to replace professional advice. If you have any concerns at all about your cat's health, please consult a vet.
Life with Siamese Cats does not sell any personal information from this website.
For further information please see our Privacy Policy.
Copyright © 2009-2021 Caroline Haines, Life with Siamese Cats. All rights reserved.


---