Savannah (a Flame Point Siamese)
by andylynn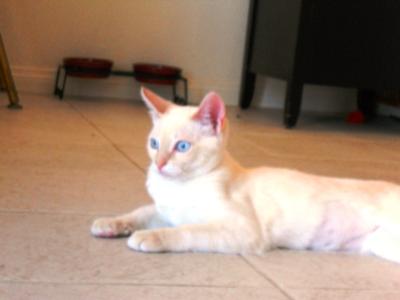 Savannah was a rescue, but my word she has all the qualities of a Southern Belle.

She really has many of the qualities of Scarlett O'Hara - stubborn, self-entitled, kind of a brat, wilful, smart, beautiful and just a lovable pain in the ass!
---
---
If you're enjoying your visit, why not
sign up for our newsletter,
Meezer Musings?

Reflections on all aspects of life with Siamese cats, from stories in the news to cat care tips, books, photos, and other goodies!

---
Like us? Please share us with
your Siamese cat-loving friends


---

Home  .  Privacy Policy  .  Affiliate Disclosure  .  Sitemap  .  About  .  Contact
Information provided on this website is not intended to replace professional advice. If you have any concerns at all about your cat's health, please consult a vet.
Life with Siamese Cats does not sell any personal information from this website.
For further information please see our Privacy Policy.
Copyright © 2009-2020 Caroline Haines, Life with Siamese Cats. All rights reserved.


---