Shaggy, My Domestic Longhair Seal Point Feral Kitteh!
by Michael
(Texas)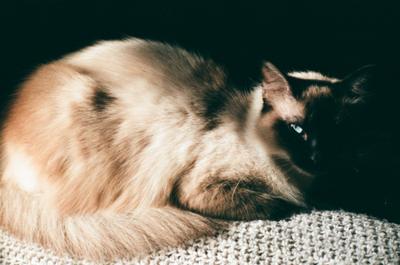 Shaggy's 'glamour shot'
Shaggy was one of five in a litter that a Domestic Shorthair Blue female gave birth to in my backyard three years ago. The father was a long haired Siamese with markings exactly as she has.

I took three months to get her to accept me, and finally brought her in the house with her four siblings, ALL with Siamese markings, all Blue Points with one other being a longhair.

I found homes for her siblings and she now lives with her two "sisters", my 6 year-old tiny grey spotted tabby, Hidey, and my 5 year-old dilute blue calico, Pretty, who is blind.

They ALL get along almost as if they had been littermates, with Shaggy being the loudest and the usual instigator of their "chase" sessions up and down my house!

She may not be a pure-bred, but she's my "Siamese" :)
Have You Discovered Our Newsletter?
If not, why not? Subscribe to our email newsletter, Meezer Musings, to stay in touch, be the first to see new information and pages as they come out, and read the things we only talk about in the newsletter.

Learn more about it on our Newsletter Sign-Up page.