'The Cat Who' series
by Lilian Jackson Braun

I've always enjoyed The Cat Who series of detective books by Lilian Jackson Braun; they have to be a must-read for all Siamese cat owners.

Starting with The Cat Who Could Read Backwards, the novels are about Jim Qwilleran (emphatically spelled with a 'w', not a 'u'), an out-of-work, divorced, recovering alcoholic, slightly-past-his-best ex-crime reporter who washes up as a feature writer for the Daily Fluxion, a small-town newspaper.

Jim's new job as a writer in the Features Department is to cover art, antiques, interior design, architecture and cooking, amongst other things.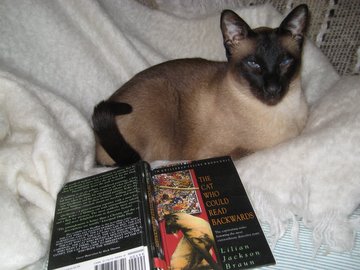 photo: © life-with-siamese-cats.com


Siamese detectives
In Jim's eyes, these subjects don't quite match up to his previously heavyweight background as a war correspondent and crime writer (and, of course, his rugged if slightly paunchy good looks!)

However, it's not long before homicides in the art world have Jim and his highly intelligent partners-in-detection, Koko and Yum Yum (two Siamese cats he acquires through the deaths of their original owners) solving murders all over town.


Written by a Siamese cat owner

The author, Lilian Jackson Braun, owned Siamese cats herself. She started writing The Cat Who series after one of her cats was killed after falling from the tenth-floor balcony of her apartment block.

She writes lovingly and descriptively about the cats, Ko Ko (real name Kao K'o Kung) and Yum Yum, who always manage to upstage Jim by solving the crime themselves. The Cat Who series includes some lovely little snapshots of perfectly-told Siamese cat behavior.


"Koko finished [licking] his tail and gazed at Qwilleran
with a faraway look, as if some divine answer
was forming in his glossy brown head.
Then he twisted his lithe body into a tortured shape,
turned up his nose, crossed his eyes, and scratched his ear
with one hind leg and an expression of catly rapture"
The Cat Who Could Read Backwards | Lilian Jackson Braun

Along the way Jim (known also as Qwill) inherits a fortune and moves to the fictional town of Pickax, Moose County, which is "400 miles north of everywhere" – thought to be northern Michigan. One of the neighboring towns is called Brrr!

For anyone familiar with the UK's Midsomer Murders TV series, the town of Pickax has an equally high body count and The Cat Who series has a similar tongue-in-cheek style.

The novels are an easy read and have a devoted following. All the books are fun although, to me, the earlier ones are the best.


The Cat Who series in full
If you'd like to give them a try, here's a list of the Cat Who books in order of publication:

The Cat Who ...

    ... Could Read Backwards
    ... Ate Danish Modern
    ... Turned On and Off
    ... Saw Red
    ... Played Brahms
    ... Played Post Office
    ... Knew Shakespeare
    ... Sniffed Glue
    ... Went Underground
    ... Talked to Ghosts
    ... Lived High
    ... Knew a Cardinal
    ... Moved a Mountain
    ... Wasn't There
    ... Went into the Closet
    ... Came to Breakfast
    ... Blew the Whistle
    ... Said Cheese
    ... Tailed a Thief
    ... Sang for the Birds
    ... Saw Stars
    ... Robbed a Bank
    ... Smelled a Rat
    ... Went up the Creek
    ... Brought Down the House
    ... Talked Turkey
    ... Went Bananas
    ... Dropped a Bombshell
    ... Had 60 Whiskers
    ... Smelled Smoke

Of these, The Cat Who Had 60 Whiskers was the last book to be published.
A further book, The Cat Who Smelled Smoke was promised, but was cancelled by the publishers with no explanation.

Many readers felt that The Cat Who Talked Turkey may have been the last book actually written by Lilian Jackson Braun, as the style and quality of the final three books was quite out of character.
By the time they were written, though, Lilian Jackson Braun was in her 90s, so the differences may just have been her age showing in her writing.

In general The Cat Who series is light and frothy, good fun and easy reading, will teach you a lot about art and design and food and Siamese cats - and they make a great present for Siamese cat lovers!


Gaps in your collection?

Surprisingly, you can still find most, if not all, of the books on Amazon so if you're missing one, two or several and would like to complete your collection you can see the complete list and buy them here
.


---
I occasionally link to books and products I think you might like. If you purchase through one of these links, I receive a small commission. There's no extra cost to you, and I only suggest products that I have enjoyed or that other cat owners have recommended. You can find out more on our Affiliates Disclosure page.

---

More Siamese cat books:


***************

Or go to:

Life with Siamese Cats Home Page

---
If you enjoy our work, why not
sign up for our newsletter,
Meezer Musings?

An opportunity to share my reflections on life with
Siamese cats, stories in the news, photos, tips, goodies,
and our Meezer of the Month!

---
Like us? Please share us with
your Siamese cat-loving friends


---

Home  .  Sitemap  .  Privacy Policy  .  Affiliate Disclosure  .  Resources  .  About  .  Contact
Information provided on this website is not intended to replace professional advice. If you have any concerns at all about your cat's health, please consult a vet.
Copyright © 2009-2019 Caroline Haines, Life with Siamese Cats. All rights reserved.


---