Siamese Cats At Halloween
Siamese Cats at Halloween. Art, Gifts and Decorations for the Witching Time

Trick or Treating? Join Our Siamese Cats at Halloween!

It's October and there's witchery in the air ... so why not join the 'Siamese cats at Halloween' party?
The days of pumpkins, cauldrons, broomsticks, cobwebs and witches' hats are nearly upon us, stores are filling up with Candy Corn and other Halloween goodies, and kids are getting excited (even if, in these Covid times, they may have to give door-to-door trick-or-treating a miss this year).
And why should Siamese cat lovers miss out? Perhaps a little surprisingly there are any number of designs specifically related to Siamese cats at Halloween so here's a collection of some of the best seasonal gifts, Siamese cat decorations and artwork from some of our favorite artists.

To lead us into the spirit of the season, let's start with a 'dark and stormy night' (or, to be truthful, a starry one where all the stars are fireflies!) and this little Siamese cat and his Jack O'Lantern pumpkin, beautifully depicted by AmyLyn Bihrle.

The image above is from artist AmyLyn's 2022 calendar, Siamese Cats in Art, which you can find for sale at print-on-demand store Zazzle.

It's the Great Pumpkin, Charlie Brown!

Pumpkins are, of course, traditional at Halloween so if it's a pumpkin theme you're after, look no further than this one from British artist Suzanne Le Good (who has, in fact, created many of the following decorations) - a wonderful bauble featuring a Siamese cat with his beautifully carved and rather fiendish pumpkin.
This hanging sign is first printed on card, then decorated with orange, gold and green glitter, and then laminated. It measures just under 5.5 inches across and is finished with a green satin ribbon to hang it up with.
I have this, along with the decoration that follows it, brightening up my kitchen at this time of year and I love it. It's perfectly Siamese and perfectly seasonal!

Candy at the Ready?

Also in line with our 'Siamese cats at Halloween' theme, here's a perfect companion to the pumpkin above.
This 'Siamese Towers' hanging sign features a Siamese cat and his Oriental kitten friend, all dressed up and ready to go trick-or-treating in their witches' hats. It has all the Halloween trimmings you can think of - spooky doorway, broomstick, pumpkin, sparkling wand and lanterns. (There's even a rat!)
Like the pumpkin above, this sign is printed on card, decorated with glitter, laminated, and then finished with a glittery cord for hanging it up with. It's slightly larger than the pumpkin sign, at 6 and 3/8 inches high, but together they make a great pair of Halloween decorations.

Pumpkins Wherever You Go

Our next piece is a key ring (although it would also be lovely as a charm for a handbag or cat carrier) - another delightful design from Siamese cat artist Suzanne Le Good. 
Made of metal, heavy, solid, and measuring 3 1/2 inches high (including the split ring), Suzanne has included a tiny print of her Halloween painting 'October Moon' in the picture window (1 3/4 inches high).
The print features an elegant Siamese cat sitting on a windowsill looking out on a starry night, with nearby candle-lit pumpkins. The stars are made from tiny silver glitter specks.

Meow-lloween!
We return to Suzanne Le Good's work below, but before we do, here's something a little different - a Halloween gift card. This 'Cat Surprise Gift Launcher' card, made by GoldinGreetings and available on Etsy, has a very cute Siamese on the front with seasonal spiders and pumpkins, and arrives with small Halloween paper treats inside it.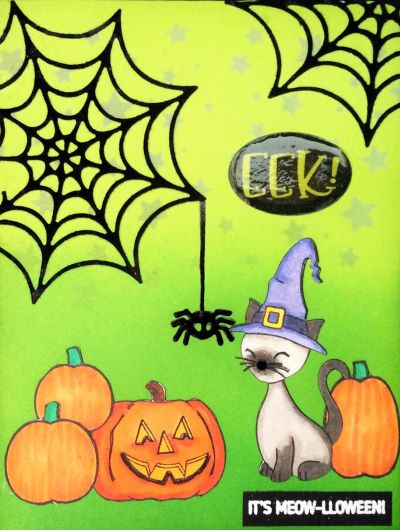 Meow-lloween by GoldinGreetings, on Etsy
Spooky Spells and Potions - Kitchen Witchery!

Returning to Suzanne Le Good's work, our next offering is a spooky kitchen door sign. Featuring seal and blue Siamese 'witches' sporting (rather crumpled!) pointed hats, the two little Meezers below are cooking up a storm, preparing spells and potions for Halloween in their bubbling cauldron. The cauldron is decorated with gold, red and purple glitter.
This sign has sticky pads on the back for fixing to a flat surface, but if you wanted to turn it into a hanging sign you could always punch a hole at the top and add some ribbon.

Bewitched by Siamese?

Our final selection is another door sign by Suzanne Le Good, of a seal point Siamese cat wearing a witches' hat on a background of a starry night sky. 
The sign is printed on card, laminated, and fitted with a silver hanging cord and finished with a sprinkling of magical glitter.
Bewitched by Siamese? Of course we are!

Happy Halloween!

I hope you've enjoyed this short walk through our virtual pumpkin patch, and admired all our lovely Siamese cats at Halloween. Have fun whatever you're doing this year, and if trick-or-treating, stay warm and safe out there!


Some of the articles and newsletters on this site may contain links to products I think you may enjoy. If you purchase through these links I receive a small commission, but there's no extra cost to you. Find out more on the Affiliates Disclosure page.


Have You Discovered Our Newsletter?
If not, why not? Subscribe to our email newsletter, Meezer Musings, to stay in touch, be the first to see new information and pages as they come out, and read the things we only talk about in the newsletter.

Learn more about it on our Newsletter Sign-Up page.