Simon, a Seal or Chocolate Point Siamese?
by Sarah
(Redding, CA)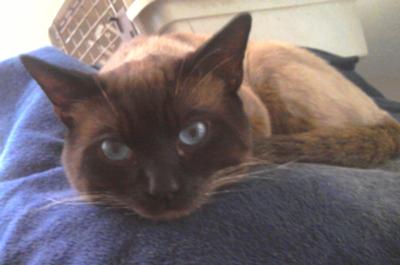 Hi, my name is Sarah and I have a Siamese named Simon. I was just wondering if he was a Seal Point or a Chocolate Point? (The vet said Chocolate.)

He's about two years old now. He was a stray we found in our yard when he was about six months old. I instantly fell in love with him!

He loves to be around people, he's very friendly and loving and very talkative! I love it when he just walks around the house meowing his little heart out :)


Reply from Caroline:
Welcome Sarah and thank you for your question - it's a very good one. Many people wonder how to tell a Chocolate Point from a Seal Point, and when you don't know the cat's ancestry and parents (which you don't, when you adopt a stray) it can be very difficult indeed.
So here are some pointers.
The first thing to note is that Chocolate Points generally have paler, whiter coats than Seal Points. Seals tend to be more of a creamy-beige, especially as they get older.
Seal Point Siamese coats have a tendency to darken over the course of their lifetime
, so a mature adult Seal Point can end up with a very dark brown back that in some cases even blends right into their tail color.
Chocolate Points tend to remain pale ivory white throughout their lives. Some, however, are born with a cinnamon tone to their coats, as Simon seems to have.
To me, from your photos, Simon could be either Seal or Chocolate. So the way to tell
for sure
(I was once given this tip by a breeder) is to look at his paw pads.
If they're dark brown, then he's a Seal Point, but if they have a pink or pinkish undertone, then he'll be a Chocolate Point.
You can
see what Chocolate Point Siamese paw pads look like
in the picture of the cat on that page. I hope this helps. Thanks for visiting!
---


Book of the Month. Have you read ...
... Rescue Meez, by Siri Zwemke? Siri is the founder of the Siamese Cat Rescue Center of Virginia, Rescue Meez is the account of her twenty years as rescuer-in-chief and the stories of some of the many cats who passed through her hands. It's a wonderful story of heartache and triumph and all the ups and downs that come with running a Rescue.

The book is available in paperback or Kindle format on Amazon - you can find more details and reviews here or use the link below to take you there.

---
If you're enjoying your visit, why not
sign up for our newsletter,
Meezer Musings?

Reflections on all aspects of life with Siamese cats, from stories in the news to cat care tips, books, photos, and other goodies!

---
Like us? Please share us with
your Siamese cat-loving friends


---

Home  .  Privacy Policy  .  Affiliate Disclosure  .  Sitemap  .  About  .  Contact
Information provided on this website is not intended to replace professional advice. If you have any concerns at all about your cat's health, please consult a vet.
Copyright © 2009-2019 Caroline Haines, Life with Siamese Cats. All rights reserved.


---