Solomon, The Mystery Kitten
by Tink Basa
(Bellingham, WA)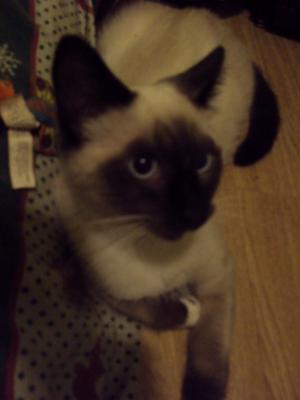 Seal point or Snowshoe?
Last weekend I rescued a Siamese kitten. I've always admired Siamese from afar but never thought I'd have one of my very own!

He was in a pretty bad situation and the person he was staying with had no answers to my questions on his history. So I am venturing to guess he is a Seal Point Siamese mix..... with perhaps some Snowshoe?

I have always had cats but your typical moggies so I'm not familiar with anything like breed "standards". I just know he's won our family over already and we love him a lot!
Have You Discovered Our Newsletter?
If not, why not? Subscribe to our email newsletter, Meezer Musings, to stay in touch, be the first to see new information and pages as they come out, and read the things we only talk about in the newsletter.

Learn more about it on our Newsletter Sign-Up page.