The Silent Talker
by Pchan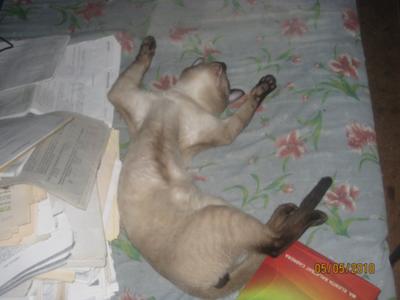 Surrender!
My friend gave me her seal point Siamese, named Pepper. He grew up mostly in a cage or tied up in one corner so whenever I go to my friend's house, Pepper eagerly wants to play and meows a lot.

But when I got him, he doesn't meow anymore aside from rare occasions like it's mating season or I forgot to put food in his bowl. Since he doesn't meow, it's hard to know where he is. He bites a lot, and it's not just petty bites but a full-force bite.

But most of the time he's just chilling on my lap, I think I spoiled him too much. xD
---
---
If you enjoy our work, why not
sign up for our newsletter,
Meezer Musings?

An opportunity to share my reflections on life with
Siamese cats, stories in the news, photos, tips, goodies,
and our Meezer of the Month!

---
Like us? Please share us with
your Siamese cat-loving friends


---

Home  .  Sitemap  .  Privacy Policy  .  Affiliate Disclosure  .  Resources  .  About  .  Contact
Information provided on this website is not intended to replace professional advice. If you have any concerns at all about your cat's health, please consult a vet.
Copyright © 2009-2019 Caroline Haines, Life with Siamese Cats. All rights reserved.


---