What Type and Color of Siamese Cat Do I Have?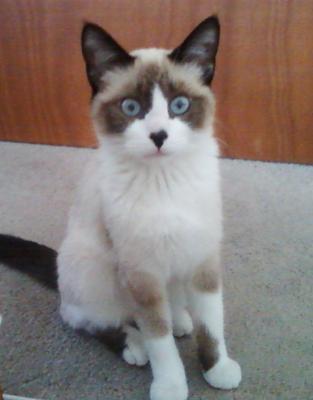 What do I look like?
I was given this cat, and I was wondering if someone could tell me what she might be?

If her paws are not colored but the back of her legs are colored is she still a Siamese, or do her paws have to be colored for her to be a real Siamese cat?


Reply from Caroline:
To me, rather than being Siamese, your little cat looks more like a Snowshoe (sometimes called a Snowshoe Siamese).
Snowshoes are known for the white upside-down 'V' over their noses like she has, and four white feet.
Snowshoe cats have walnut-shaped, rather than almond-shaped eyes, and your little cat's eyes look a little bit more round than those of a typical Siamese.
So I think she's part Snowshoe. This means that she will have some Siamese in her background, because Snowshoes were developed by crossing Siamese cats with another cat breed, probably the American Shorthair.
But Snowshoes are a breed in their own right, and recognized by cat registries as a separate breed to the Siamese.
Colorwise, with her dark brown ears and tail, she's probably a Seal Point, but take a look at her paw pads - if they're dark brown, she's a Seal Point, but if they have a pinkish tinge, she's more likely to be a Chocolate Point.
It's difficult to say exactly, without knowing what kind of cats her parents were, but put all this together and you could call her a
Seal Point Snowshoe Siamese mix
!
I hope this helps. She's ever so cute - I love the chocolate-brown markings over her eyes and on the tip of her nose!
Thank you for your question and for sharing her photo with us.
Other Siamese-like cat breeds with white feet:
Have You Discovered Our Newsletter?
If not, why not? Subscribe to our email newsletter, Meezer Musings, to stay in touch, be the first to see new information and pages as they come out, and read the things we only talk about in the newsletter.

Learn more about it on our Newsletter Sign-Up page.