Meezer Musings: May 2019
Travels With My Cat
"The moment Charles brought the cat baskets in through one door ready for the journey, Solomon ... put his ears down and marched determinedly out through the other. By the time we had cornered him - flat under the bed yelling he wasn't going any place, it was winter and we knew he never went anywhere in winter ... it was obvious what our television appearance was going to be like."
Doreen Tovey. Cats in May

Welcome to May's Meezer Musings!
Our opening words are from Cats in May  by much-loved author Doreen Tovey, herself no stranger to traveling with Siamese cats.
The quote describes the preparation for a train trip that Doreen and her husband Charles made with their Siamese cats, Solomon and Sheba, to a television studio in London. Their subsequent television appearance was equally eventful!
One of Doreen's later books, A Comfort of Cats, tells how she and Charles coped with the closure of their local boarding cattery. Unable to leave the cats behind while they went on vacation, they bought a caravan (as you do!) and took the cats with them.

This month we're taking a look at traveling with cats and keeping them happy, safe and secure, whether you're on a short trip to your local vet, taking your cats by car cross country, or even relocating by air to another country or continent completely.
Before that, though, we're exploring the role played by Siamese cats in the Thai coronation ceremony, and saying a fond farewell to the much-loved internet star, Grumpy Cat.

The Royal Role of Siamese Cats

Siamese cats originated in Thailand (formerly the Kingdom of Siam), and there are many legends and stories depicting their historical role as temple cats and royal guardians.
Earlier this month, the new king of Thailand, King Maha Vajiralongkorn, was crowned in a fascinating three-day ceremony which you can read about here - the first coronation for nearly seventy years.

Traditionally, Thai kings are presented with Siamese cats during the series of events surrounding the coronation ceremony, to ensure a stable home and good fortune in the years ahead.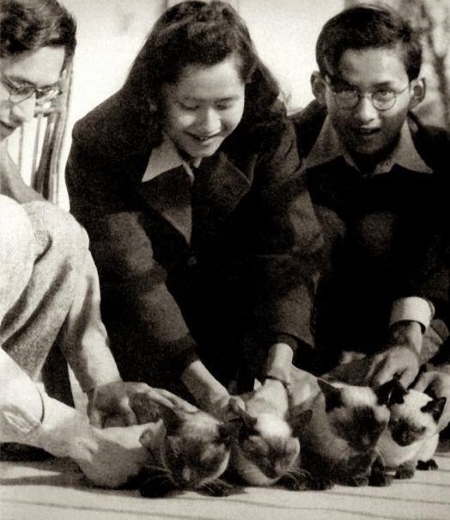 Former Thai King Bhumibol with family members and cats
However, although a breeder was asked to select two gentle, male Siamese cats to take part in the celebrations, it seems the live cats weren't actually used - perhaps to spare them the long ceremony (or perhaps to avoid the mayhem generally caused by Siamese cats!) and a model of a Siamese cat was used instead.
The times, as Bob Dylan would say, are a changin' ...

Precious As Jewels

In Thailand Siamese cats are known as 'Wichienmaat', which means 'moon diamond'.
If you haven't already read it, here's a reminder of Madeleine Purslow's delightful novel Moon Diamonds, about an aging actress and the therapeutic power of Siamese cats.
A Farewell to Grumpy Cat

This month also brought sad news about internet star Grumpy Cat, known and loved the world over for her downcast, mournful expression, who died at the age of seven from complications following a urinary tract infection.

Grumpy Cat, whose real name was Tardar Sauce, was a mixed-breed cat born with dwarfism and an underbite, both of which contributed to her 'grumpy' face. She wasn't Siamese but had Snowshoe coloring and many Siamese lovers regarded her as an honorary member of the 'Meezer family'.

Farewell and Fly Free, Grumpy Cat.
Turning away from the news now and on to travel, let's look at three scenarios when you might need to transport your cat from A to B.

A Trip to the Vet

I'm sure most of you are very familiar with taking your cat to the vet and know how to get there comfortably and safely.
I'm including this section, though, because we occasionally have readers who are new to cat ownership and to the determination of Siamese cats to resist efforts to contain them.
It's also something of a warning because this month I've read two reports, one with tragic consequences, about cats who escaped from carriers with faulty doors.

In the first, a cat being dropped off at a cattery managed to escape when the door of the carrier came open. The cat ran off and hid in an abandoned shed where his owners were unable to reach him - he was too frightened to come out from his hiding place.
He was spotted several times over the following days, but proved impossible to catch.
Eventually a humane trap was set, and in a happy ending the trap worked its magic, the cat was caught, and returned safely home.

In a second incident, a cat being taken to the vet escaped after the door to their carrier came loose unexpectedly, just as the owner was entering the vet's office. Before anyone was able to stop it, the cat shot out into the road and was run over and killed.

The moral of both stories is, of course, to make sure your cat carrier is completely escape-proof, and also to actually use a cat carrier - don't transport your cat in your arms or in a harness, or even in a cardboard box - they're all too easy to escape from.
Consider safety at all times. Ideally, your carrier should be lightweight and easily portable, with top and side openings and toughened, claw-resistant mesh.  Zippers should have buckles or clips to prevent determined, questing paws from opening the zippers.
Long Distance, Cross Country

After my request last month for stories of traveling long distance with cats, I heard back from a number of people - if you were one of them, thank you!
I've summarized their thoughts at the end of this section; there are a several things you'll need to think about if you're thinking of making a road trip.
Lee, who moved from Virginia to Florida with six cats (and will shortly be on the move again) said:

"Our first move in twenty years, and things had changed. For one thing, there were pet friendly hotels along our way.
We stayed in a Best Western that was clean and had minimal carpeting. Driving up you could see cats sitting in windows. It actually was a comforting place to stay in the middle of moving trauma.
When we got to the hotel, I got a luggage rack and stacked my carriers two high and wheeled them all into the room at once!"

Also heading to Florida was Jo, who moved from Chicago to Fort Lauderdale (a trip of around 900 miles), with four cats.

"We had a Subaru Outback which was just large enough to accommodate four 30" nylon crates, one per cat. Each crate had water and a travel litter box. We traveled about eleven hours each day and stopped in a pet friendly motel, booked in advance.
We sprayed plenty of Feliway pheromone in the crates and the car and motel room. In the motel, we fed the cats dinner and breakfast, and then did it all over again the next day.
Only one of the cats was accustomed to traveling but all did far better than expected. Crying about the first 20-30 minutes each day and when we stopped for bathroom or food breaks".

If you're thinking of making a long-distance trip with your cats, here are some things to consider:
Carriers: You'll need to transport your cats in carriers. Ideally these need to be a little larger than the average cat carrier, big enough to comfortably contain the cat; a soft blanket, bed, or quilt; a water dish (deep enough to hold water without spilling); and a small litter tray. It should be big enough for the cat to walk in, turn and lie down comfortably - small dog crates work well.

Location: Carriers should be placed either on the back seat of the car secured by a seat belt, or in the rear section of an estate car or SUV. They shouldn't be placed on the front seat but if they must be, for space reasons, the passenger airbag should be deactivated. In a collision, an expanding airbag could seriously injure or kill a cat. Cat carriers should never be placed in an enclosed trunk (boot) of a car.
Safety and Security: Never leave your cats alone in the car for any length of time if you stop.

Food: Make sure food for the cats is easily accessible - rather than having food in the crates it's best to feed the cats when you stop for food yourselves, or when you have them safely in your accommodation overnight.
Accommodation: Many places are now pet-friendly, so research and book suitable pet-friendly motels, hotels, or Airbnbs for overnight stops.
Comfort. If your cat is at all nervous, pheromone sprays like Feliway or Nature's Miracle Calming Spray can be very helpful. You can also ask your vet about sedation, but be aware that this doesn't always work, especially if your cat is very stressed or agitated beforehand.

Prepare. It's a good idea to get your cat used to traveling by making some short trips around your local area so that you'll have some idea of how they might react on longer journeys.

Transporting Cats by Air

 Traveling by car is one thing, but what do you do when your only option is to move your cats by air? When, for example, you're moving overseas, or cross country when the distance is too far to drive comfortably?
Ultimately you have two choices. Either you fly with your cats in the cabin, or you send them as pet cargo.

In her memoir, Rescue Meez, Siri Zwenke relates the story of a cat called Sebastian who was first adopted by someone in Chicago. Sebastian flew to Chicago in cabin with a transport volunteer, but his Chicago adopter later decided he was too difficult to handle and asked to return him.
No-one was available to accompany him, so Sebastian had to fly in pet cargo. All sorts of problems followed. At that time there was no means of tracking cargo animals and with connecting flights, flight delays and other problems, Sebastian had a difficult and uncomfortable journey back.
Happily he did return safely, but Siamese Rescue cats never traveled pet cargo again.
There are many stories of cats who are neglected or lost in airports when traveling as cargo. Transporting pets by air is fraught with problems and the Humane Society of the United States doesn't recommend it unless it's absolutely necessary.
There are so many things to consider that it's impossible, in a short newsletter, to cover them all, but if your only option is to move your cats by air, here are some things to consider:
Rules for flying with cats vary by airline, airport, state and country.
Check with your chosen airline whether they allow cats to travel in the cabin - most airlines have a limit on how many pets can travel in the cabin on any one flight.

Airlines also have regulations about the size and type of cat carriers that can be used - check with the airline that yours complies.

Check with the departing and arriving airports for any regulations they may have concerning pets going through security checks. Some airports require you to show pet health certificates, which have to be obtained from your vet before you travel.
If flying internationally, check the import, quarantine and health regulations for the country of arrival.

Cats aren't allowed through security checkpoints in their carriers, so you'll have to remove them and carry them through the metal detectors in your arms. To do this safely you'll need harnesses, which should be placed on the cat before you get to the airport.

This is a useful first-hand report from someone who's actually flown from New York to Los Angeles with their cats, and this one, written by a vet, is helpful for further information on transporting cats safely (both in cars and on planes).

Fun from Facebook

Posted to our Facebook page this week and in keeping with our 'traveling with cats' theme, meet Javier Santiago Borghi's Asrael, who spotted an opportunity to stow away in his mom's travel bag.
That look definitely says 'if you're going away somewhere, I want to go too"!

Asrael - A Meezer on a Mission
Photo with thanks to and copyright © Javier Santiago Borghi
Tail End ...
That's all for this month - it's rather long but I hope it's helpful! I'll be back towards the end of June. Till then, make time to enjoy the changing seasons and plenty of snuggles with your fur-family!

Caroline

Missed a Meezer Musings? A list of previous newsletters can be found here.


Some of the articles and newsletters on this site may contain links to products I think you may enjoy. If you purchase through these links I receive a small commission, but there's no extra cost to you. Find out more on the Affiliates Disclosure page.


Have You Discovered Our Newsletter?
If not, why not? Subscribe to our email newsletter, Meezer Musings, to stay in touch, be the first to see new information and pages as they come out, and read the things we only talk about in the newsletter.

Learn more about it on our Newsletter Sign-Up page.