Meezer Musings
September 2019


Those Artful Siamese Cats!

"The purpose of art is washing the dust of daily life off our souls."
Pablo Picasso

September can be one of the most colorful months of the year, when green leaves turn to russet and red, and sunsets and harvests bring the yellows, oranges and golds, much-beloved by artists, into our lives.

But, you may be asking, what's all that got to do with Siamese cats?
Well, after Meezer Musings in August, which was about genetic illnesses in Siamese cats, we're brightening the mood this month and having some fun!
September is all about Siamese cat art and some of the artists who make it, washing the dust of daily life off our souls as they do so.


Where shall I put this paint? Siamese Creative Cat Artist at work
Image with thanks to and copyright © AmyLyn Bihrle
Print from an original painting, available on Etsy


AmyLyn Bihrle was a featured artist for us back in 2017 and provides our beautiful and highly-appropriate opening picture above.

I've long been a fan of AmyLyn's work and have one of her calendars brightening up the walls of my office. September's image is of one of AmyLyn's wide-eyed, mischievous Siamese cats hiding in a pile of leaves and heralding the approach of autumn.


---

Cool Cats of Abbey Road

A couple of weeks ago I happened to spot an advertisement for an unusual art exhibition - the 25th Annual Exhibition of the Society of Feline Artists, featuring UK artists specializing in cats.
I was unable to visit it in person and the exhibition has now closed, but the paintings are still displayed on the show's website - there are three pages of wonderful domestic and wild cats in the gallery.

One particular painting that caught my eye (being both a Beatles fan and Siamese cat lover) was called The Abbey Road Cats, by artist Denise Laurent.
As Beatles fans may know, August 2019 saw the fiftieth anniversary of the Abbey Road album, with its famous and much-imitated picture of John, Paul, George and Ringo crossing Abbey Road on the cover.
Denise told me she'd been thinking about this for a long time, and she recreated the image using a quartet of black, ginger, Maine Coon and Siamese cats. She used two models for the Siamese, Mimi from Scotland and Kimi from England, and with photos of both of them walking in a similar position she was able to combine them into one cat!
The original painting is now sold but limited edition prints are available - click the picture or link below for details.


The Abbey Road Cats
Original painting in oil, reproduced with thanks to
and copyright © Denise Laurent
Limited edition prints available here


Denise works in oil, acrylic, watercolor and resin to create a stunning range of super-realistic animal portraits and 'wearable' art - scarves, bags, t-shirts, brooches and necklaces.
She takes commissions and sells originals and limited edition prints from her main website, Denise Laurent Fine Art, as well as through her store on Etsy.
Denise also has an online gallery just for Siamese cats at her other website, The Painted Cat - as she says, it can be noisy in there! Noisy it may be, but the cats are gorgeous.


---

Portraits in Wool

Turning to an artist in a very different medium, Alla Rebrova works in wool. Alla is perhaps best known for her pet portraits and dolls in needle felt, but offers a range of products including pet beds just perfect for Siamese cats (see further down) via her Etsy craft store, Coalla.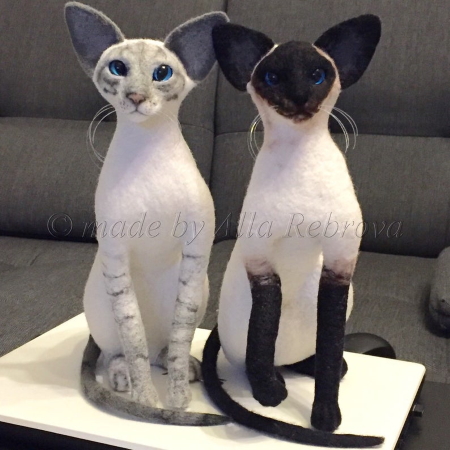 Custom needle felted Siamese dolls from Coalla
Image with thanks to and copyright © Alla Rebrova


Alla uses natural sheep's wool and glass eyes to craft her dolls and framed 3D portraits in a process known as needle felting, in which numerous layers of wool are stabbed repeatedly with a needle, eventually 'felting' the wool into a three-dimensional shape.
Alla works from photographs to create needle felt replicas of pets, capturing the unique details of their features. The work is intensive and time-consuming, with each project taking several months to complete.

Some portraits are created for living pets, others as memorials to pets that have passed. The needle felt memorial 'stone' below contains a zipped pocket to hold mementos like collars, fur or ashes.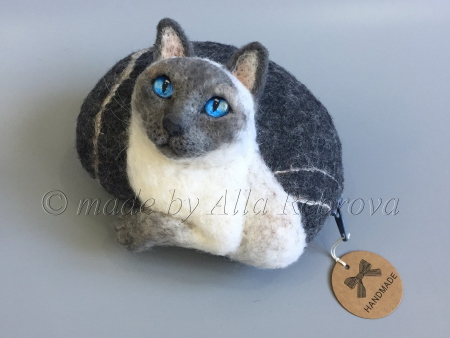 Memory 'Stone', available from Coalla
Image with thanks to and copyright © Alla Rebrova


Each made-to-order item is unique and takes hours of work so if you're ordering it's important to be patient! Alla lives in Riga, Latvia, and shipping from there can take time, so remember to factor this in if ordering for any particular occasion.
While we're on the subject of artful Siamese, there are perhaps none more so than the immortal pair Si and Am from 'Lady and the Tramp', remembered here in 'We Are Siamese' fabric.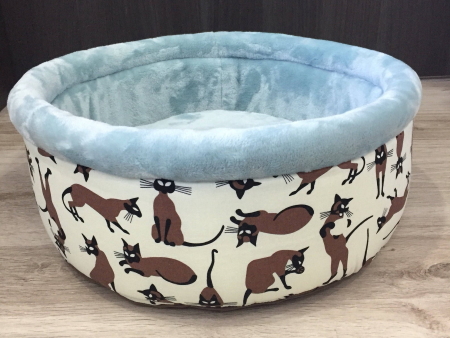 'We Are Siamese' fabric cat bed
Image with thanks to and copyright © Alla Rebrova
Beds from Coalla on Etsy


---

Rachel Parker

I've been following Rachel Parker on Facebook for some time and love all her work, which includes cats, dogs, horses and people but particularly, of course, her watercolor paintings of Siamese cats.


Ready to Rumble
Image with thanks to and copyright © Rachel Parker
Print from an original painting available from Rachel's Studio


Rachel, a self-taught artist, is based in South Carolina, USA and hails from a whole family of artists; her mom is a portraitist and her father is a photographer.
She began her painting career by putting a little painting on eBay for $1, just to see what would happen. The bidding went up to $30 and Rachel never looked back!
Rachel displays her work on her website, Rachel's Studio, from which she sells beautiful and very affordable prints of her work. You can also find and follow her on Facebook.
Who could not fall in love with the adorable kittens above, or the sleepy chocolate points below?


Slumber
Photo with thanks to and copyright © Rachel Parker
Print from an original painting available from Rachel's Studio


---

Suzanne Le Good's 2020 Calendar now available

I mentioned AmyLyn Bihrle's calendar above so couldn't possibly leave without mentioning Suzanne Le Good's calendar too.
As you probably know, I love Suzanne's calendars - hers lives on my kitchen wall so that I can enjoy it while I'm cooking - and I'm delighted to say that her 2020 edition is now available. (I've got mine already!)


Suzanne Le Good 2020 Siamese Cat Calendar
Image copyright © Suzanne Le Good


As always, the calendar features some of Suzanne's wonderful artwork - images of her most popular paintings in a variety of styles - realistic, stylised, decorative and whimsical. Each page has one large and one smaller image, and all are delightful.


Selection of pages from Suzanne Le Good's Siamese cat calendar 2020
Image copyright © Suzanne Le Good


---

Tail end ...

While I was researching for this newsletter I came across a number of other Siamese cat artists, so I'm sure we'll return to this topic again in the future.

Next month we'll be looking at something very different - cat safety. Meanwhile, I hope you've enjoyed our walk through all the artful and beautiful cats, and that they inspire and warm you as the leaves fall and we slip into October's cooler, shorter days and longer nights.

Have a great month, everyone!

Caroline


---

I occasionally link to products I think you might enjoy. If you purchase through these links, I receive a small commission. There's no extra cost to you, and I only suggest products that I like or that other cat owners have recommended. You can find out more on our Affiliates Disclosure page.


---
If you're enjoying your visit, why not
sign up for our newsletter,
Meezer Musings?

Reflections on all aspects of life with Siamese cats, from stories in the news to cat care tips, books, photos, and other goodies!

---
Like us? Please share us with
your Siamese cat-loving friends


---

Home  .  Privacy Policy  .  Affiliate Disclosure  .  Sitemap  .  About  .  Contact
Information provided on this website is not intended to replace professional advice. If you have any concerns at all about your cat's health, please consult a vet.
Life with Siamese Cats does not sell any personal information from this website.
For further information please see our Privacy Policy.
Copyright © 2009-2020 Caroline Haines, Life with Siamese Cats. All rights reserved.


---