Meezer Musings: November 2019
It's Beginning to Look a Lot Like Christmas ...
Is it really that time of year already? 2019 hasn't always been an easy ride, but the months have flown by and here we are at the end of November.
To our American friends, Happy Thanksgiving! I hope you had a fun day with family and friends on Thursday and are enjoying your long weekend.
Here in the UK the Christmas lights are going up, and, in the village where I live, are being switched on this afternoon. With the coming of December we dive headlong into the holiday season - the cards, the gifts, the other preparations that haven't been started yet ...
So to help ease us into the next few weeks, here's one of AmyLyn Bihrle's cute and beautiful cats 'helping' with some gift wrapping!

Santa Claus is Coming to Town

As has become something of a tradition over the years, our November newsletter is filled with seasonal 'Meezery' - cards and tree decorations, Christmas stockings, topical tips for the holidays and a couple of appropriately dressed Meezers of the Month!

You'll notice that most of the items featured below can be found in the online craft store, Etsy. While it is of course always possible to find a good range of Siamese cat gifts on Amazon (mugs, socks, t-shirts, etc.) it's nice to be able to support individual artists and craftspeople wherever possible, and especially at Christmas.

But before we get to Christmas ...

Are You Ready for 2020?

There's always discussion about when a new decade officially begins - whether with a '0' or a '1' year - but whichever you believe to be true, there's no denying that 2020 has a special ring to it in addition to providing our entry point to the '20s'.

In preparation, you need a calendar!
If you haven't bought yours for 2020 yet, hop on over to our Siamese cat calendars page where you'll find a selection of the brightest and best for the upcoming year, including this one from Siamese Rescue.

This will be the last calendar produced by Siamese Rescue and as usual it's filled with full color photos of rescued Meezers and Siamese mixes, together with their rescue stories. It's all in a great cause, so do head on over and buy one if you'd like to support their rescue efforts.

With Every Christmas Card I Write

I usually have several Siamese cat calendars around the house and always buy one from Suzanne Le Good - I've already got mine for 2020!

Suzanne also has several collections of Christmas cards for sale in her Etsy shop, one of which is pictured below. As you can see, they're beautiful cards.
Available in packs of five, they feature a range of cats with different point colors and are hand-decorated with glitter. They're so lovely that you probably won't want to send them to anyone - but you could always just frame them instead!

If a vintage 1950s look is more your style, check out the two handmade card designs below from Vintage Images UK.
The first features a mischievous, slinky Siamese swatting a glass tree ball, and in the second, a pair of lovers cuddle up for a kiss under the mistletoe.
Unusual and delightful, you can find out more about both cards by clicking the images or the links below them.


Siamese cats seem to be well-featured in Christmas cards this year, popping up in this card from Beadazzle Designs with its Santa-hatted Meezer, Christmas tree and roast fish (pencil and candy cane not included) ...


... and again here, in these two featuring a pair of delightful Orientals hanging lights on a tree, and another carol-singing duo of Siamese in a winter wonderland.
These cards are from a wide selection of Siamese and Oriental cards from CattyLiciousGifts.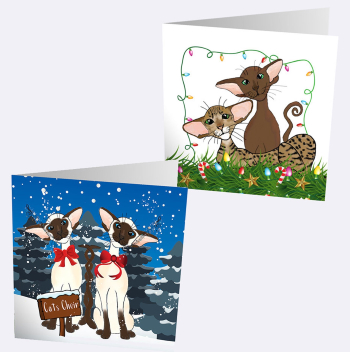 Our final card selection has an Art Deco feel and contains four cards featuring a little flame point having fun in a snowy landscape with a range of seasonal, rather than Christmassy, messages - good will, joy, hope and peace.
The cards are blank inside, so they'd be suitable for any winter holiday or New Year greetings.

Are You Hanging Up a Stocking on the Wall?

We opened with a card from one of my favorite Siamese cat artists, AmyLyn Bihrle, and I happened to notice the other day that AmyLyn is now selling some of her designs on Christmas stockings - perfect for any Meezer-lover (or cat!)
The first design shows one of AmyLyn's instantly recognizable Siamese cats snugly decked out for the winter weather in a fur-lined hat and scarf; the second shows a wide-eyed Meezer helping to wrap (or unwrap!) a pile of gifts.
The stockings are available from AmyLyn in print-on-demand store Zazzle. For further details, clicking either the images or links below them will take you there.

Deck the Halls - and Trees!

I love Christmas tree decorations and enjoy finding Siamese cat-related bits and pieces, so as usual I've been on the lookout for new ones. Here's a small selection; they make perfect stocking fillers or little gifts for yourself or others - some of the ornaments can even be personalized with your cat's name.

Clicking the images or links below them will take you to individual craft stores on Etsy (KittyCatArtStudio, SheepinStitches, JusBClause, BeeAndElla) where you can find out more - but be quick, they tend to sell out fast at this time of year!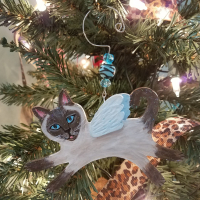 Siamese angel: KittyCatArtStudio
Sold Out
Meezers of the Month

Just when you think we haven't had a Meezer of the Month for a while, two come along at once!
While I was preparing the final draft of this newsletter these appropriately seasonal photos were posted to our Facebook page so both cats share our Meezers of the Month spot.

First up is Kerri Pothier's Cafra wearing a very fetching reindeer hat!
Cafra may not entirely approve of his reindeer disguise (some cats hate being dressed up, others seem to love it) but all of us have to wear antlers and Christmas sweaters at this time of year. Don't we?
Our thanks to Kerri and Cafra.

Cafra's Seasonal Antlers
Photo with thanks to and copyright © Kerri Pothier
And here's Donna Jeanne Sadeghi's handsome Drew, modeling a warm and beautiful Christmas sweater that matches his eyes. Drew won't be catching cold with that on. Thank you to Donna and Drew!

(One of our Facebook visitors asked where such sweaters could be found. Drew's is a small dog sweater from CVS, but there are a number of knitted sweaters available online for Sphynx cats, who, being hairless, very much feel the cold in the winter months.)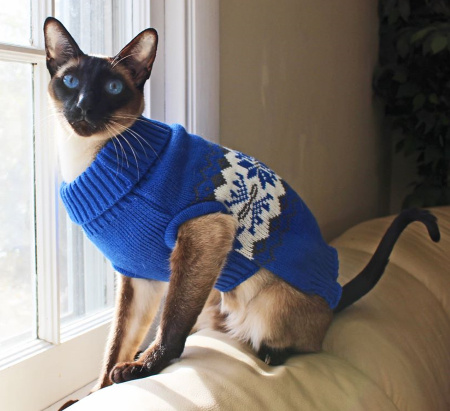 Drew's all ready for the winter
Photo with thanks to and copyright © Donna Jeanne Sadeghi
Have Yourself a Merry Little Christmas

Our final image, which is also November's picture in Suzanne Le Good's 2019 calendar, rather neatly sums everything up - cats, calendars, cards, snow, Christmas. May it bring you much joy and warmth!

Holidays can be tough for those who've recently lost loved ones, and our hearts go out to everyone missing family members, friends or pets at this time.
And while most of us are probably more likely to be contending with cold, wet, or snowy winter weather, please spare a thought for those in Australia and elsewhere having to cope with terrifying bush fires - stay safe, Australian friends.
I don't usually send out a newsletter in December but will be back with more Meezer Musings towards the end of January.
As November slips away and December beckons, wherever you are and however you're celebrating the holiday season, I hope your holidays are happy, peaceful and fun!

Caroline

Missed a Meezer Musings? A list of previous newsletters can be found here.


Some of the articles and newsletters on this site may contain links to products I think you may enjoy. If you purchase through these links I receive a small commission, but there's no extra cost to you. Find out more on the Affiliates Disclosure page.


Have You Discovered Our Newsletter?
If not, why not? Subscribe to our email newsletter, Meezer Musings, to stay in touch, be the first to see new information and pages as they come out, and read the things we only talk about in the newsletter.

Learn more about it on our Newsletter Sign-Up page.