Meezer Musings: January 2020
There's No Place Like Home

Welcome to a new year of Meezer Musings! Here we are at the end of January and although it's a little late to wish you a happy New Year, it's definitely not too late to wish you a happy and peaceful 2020 with the Siamese cats in your lives!
To our new subscribers, a very warm welcome - I hope you'll enjoy browsing through this website and find answers to your questions here.
Back in October last year we took a look at cat safety, investigating, amongst other things, ways of keeping your cats secure through the use of cat harnesses, catios and cat-safe fencing, for those wanting to give their cats a taste of the outdoor life.
Sometimes, though, wherever your cats are, indoors or outdoors, and despite taking every precaution, cats manage to escape.
Five years ago we told the story of Jimmy (pictured below), a Bengal boy belonging to cat harness-makers Butterfly Cat Jackets.
Jimmy slipped out of an unnoticed open door and escaped just before Christmas into the freezing cold depths of winter. Thankfully, after ten heartbreaking days for his owners over the Christmas and New Year period, Jimmy was found and returned.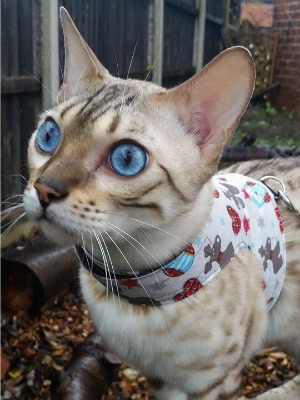 Jimmy. Still going strong after five years
Image with thanks to and copyright © Clare Brereton
An Increase in Missing Cats
Over the past couple of months there seems to have been an upsurge in the number of social media posts about missing cats, including one from one of our long-time Italian readers, Nicoletta, whose story and that of her cat, Toby, is told below.
So this month we're returning to the subject of missing cats, and looking at what you can do to find your cat if the unthinkable should ever happen to you.

Toby's Story

Nicoletta Liguori has been one of our regular Facebook visitors for many years and returned this month to tell us about Toby's disappearance.
In July last summer Nicoletta and her husband took a vacation trip to the seaside town of Varazze on the Italian coast, taking Toby along with them and staying in a hotel, in a second-floor room.
On the very first day of their stay Toby managed to escape from the room, jumping down to the ground from the outdoor balcony. Despite searching for him day and night, Toby wasn't found.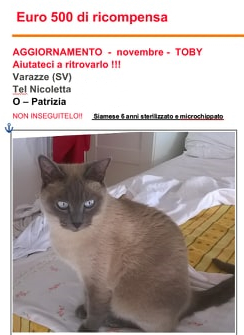 Missing Cat - Reward for Information
Image with thanks to and copyright © Nicoletta Liguori
A Sighting
Devastated, the family had to return home without him, leaving a 'Missing Cat' poster and offering a reward for his return.
Nicoletta cried over Toby's loss every day but continued, with the help of many volunteers in the area, to search.
The weeks went by, and with them, the desperation to find Toby alive increased. Then, in November, someone reported a sighting of a Siamese cat.
It wasn't certain that this was Toby, as it seemed the cat might already have a home but, after a further check a trap was set and one of the local volunteers, Patrizia, was successful in capturing it.
The cat did, in fact, turn out to be Toby! Nicoletta and her husband were, of course, overjoyed, and Toby was returned to them - exactly four months after going missing.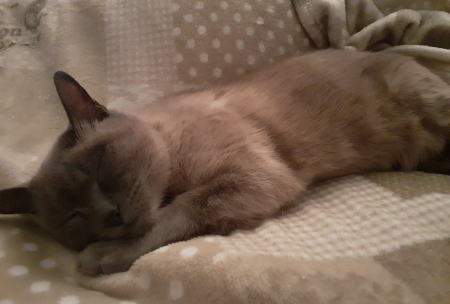 Toby - tired and happy to be home
Image with thanks to and copyright © Nicoletta Liguori
What to Do if Your Cat Goes Missing

Toby's return was nothing short of miraculous but, as you will have seen from both Jimmy's and Toby's stories, missing cats can be found (and some, like Toby, are found or return home of their own accord after many months away) so it's important not to panic.
However it is important to act quickly. In the early days of an escape, cats generally go to ground and don't move far from their own surroundings, so the more people who know about the problem the greater the likelihood of your cat being found. It's essential to get the word out fast.

First, Check Your House
If ever there comes a time when you can't find your cat but aren't completely sure that it has escaped, the first thing to do is to check every nook and cranny inside your home.
Under all their fur, cats' bodies are surprisingly small and of course very flexible, allowing them to squeeze into the tiniest spaces.

So search all your rooms, cupboards and closets, behind and under furniture and particularly spaces like the underside of couches or beds - cats have been known to tear the protective fabric and crawl into the spaces between the framework and box springs of sofas or mattresses.

Remember to check other areas to which cats like to gravitate - washing machines, tumble driers and other warm spots and investigate any cubby holes and dark spaces.

If Not Indoors, Then ...

If, on the other hand, you know your cat has escaped, follow the steps in the panel below.

Check every inch of your own outside space, and then the local area. Garages, garden sheds, summerhouses, any other outbuildings. Look under shrubs and bushes, tarpaulins, garbage cans, parked cars and wheel arches.

Search at dawn and dusk when cats are likely to hunt for food, and also after dark. Flashlights can often reveal a cat's location by picking up the gleam of their eyes.Take some dry food with you, call your cat by name, pause and listen for any cries in reply.
Create 'missing cat' flyers and posters. Include a photo of your cat, some identifying details, the date, time and location your cat was last seen, and your telephone number. Don't include all identifying marks though - keeping one or two details back will allow you to check that someone has actually found your cat if they phone you.

Consider offering a reward. If you can afford it, offering a reward can help to concentrate people's minds and spark memories.

Distribute your flyers to every local household and put posters up all around the area unless there's a local restriction on doing so. (Use string to tie posters to fences and trees - don't nail them as you can be fined for doing this).
Alert the neighbors. Contact the residents of as many houses as you can around you in your own street plus any properties that back on to yours, as well as surrounding streets. Ask people to check their own gardens, yards and houses. Leave flyers if there's no-one around but make a note to go back again and speak to people face-to-face if you can as people don't always read notes.
Entice your cat back with familiar smells. If you have a garden, yard or other outside space, put your cat's bedding, one or two toys, and an item of your clothing (unwashed) outside but under cover so that it's sheltered from rain. Other familiar smells might be litter boxes, or the contents of your vacuum cleaner. All of these can help in guiding your cat home.
Get on the phone. Make phone calls to all local veterinary practices as well as nearby rescue centers, shelters, or animal pounds and leave your cat's description and your contact details. If your cat is microchipped, call the relevant microchip company. You might also consider having a friend telephone your local environmental health, street-cleaning or garbage collection company to ask whether they have collected any dead cats. They may have news you don't wish to hear, but at least you'll then know what's happened, and have closure.

Above All, Don't Despair

It's normal to fear the worst but cats are resourceful and adaptable creatures - very often more so than we give them credit for.
Many have been known to go missing for weeks, months, or even years and eventually return, either of their own accord or through continuing search efforts so the more you can do to find out what's happened to your pet, the better.
Actively doing something will also help in keeping fear and distress at bay, so do as much as you can.

Consider Microchipping
While, of course, this information won't help you if your cat is currently missing, it's worth having your cat microchipped, if such a scheme is available in your country. This procedure is carried out by vets, and is relatively simple and inexpensive.
Microchipping doesn't always solve every problem, but as long as you keep the registration details up to date with the microchip registry, it may just help to get your missing cat returned to you if  they are turned into a vet, shelter or rescue where scanning is routinely carried out.

Update!

Not long after I sent out this newsletter I received a message from one of our readers, Fiona, who said:
"I have read your useful information about missing cats and thought I would add that when my cat went missing for 18 days I went onto all the local Facebook pages, and also further afield, with plenty of his photos for people to see.  
I also printed up colour posters, cut the corners off, and then laminated them. I punched holes on the laminated poster where the corners are cut - this stops water getting into the actual poster itself as the punched holes just go through the laminated part and don't touch the poster.
I used pins to hold them up on trees and any noticeboards I could find around the village so locals could see what my pussy-cat looked like in colour.
In the end one of my neighbours called me and it was him, after 18 agonising days."
Fiona makes the excellent point that in addition to flyers and posters, getting the word out on social media, especially to local groups and friends, is very important too - and I will add this to the points in the blue panel above in due course.
Thank you so much, Fiona, and I'm absolutely delighted your cat was found and returned to you.

Another Happy Ending

In another extraordinary missing cat story last summer, a Siamese cross named Mia escaped from a van traveling back home from France to England via the undersea rail tunnel (Eurotunnel) linking the two countries.
Mia jumped out of the van on the French side of the tunnel and her owners had to return to England without her, leaving her details with Eurotunnel site officials who continued to search for her.

Mia's owners made arrangements to return to France and in an extraordinary stroke of luck, on their arrival they were told that Mia had been spotted on a CCTV camera just ten minutes earlier. They were taken to the location where she'd last been seen and Mia came running up. Miracles can happen.

Meezer of the Month

Speaking of escaping cats ...
Our Meezer of the Month for January is Ty Zhulev's little Lexi, shown here as a kitten although she's now actually eighteen months older.
Posted to our Facebook page, this photo chimed well with our theme this month, although as you can see, it should be noted that (with the exception of newborn kittens) baby gates very rarely hold back determined Meezers!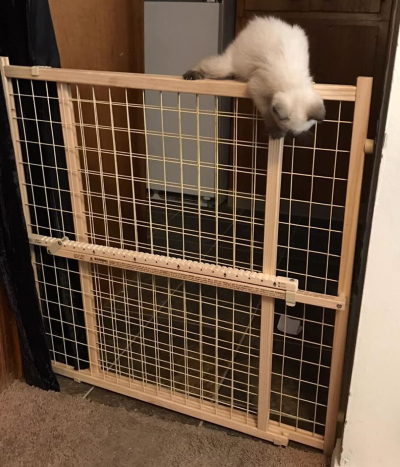 This Is Fun! Scaling The Heights
Image with thanks to and copyright © Ty Zhulev
Tail End ...

Wishing you and the cats in your lives a safe and happy month - we'll be back again at the end of February.

Caroline

Missed a Meezer Musings? A list of previous newsletters can be found here.


Some of the articles and newsletters on this site may contain links to products I think you may enjoy. If you purchase through these links I receive a small commission, but there's no extra cost to you. Find out more on the Affiliates Disclosure page.


Have You Discovered Our Newsletter?
If not, why not? Subscribe to our email newsletter, Meezer Musings, to stay in touch, be the first to see new information and pages as they come out, and read the things we only talk about in the newsletter.

Learn more about it on our Newsletter Sign-Up page.