Meezer Musings: April 2020
Uncertain Times

Welcome to a Spring edition of Meezer Musings!  First, and above all, I hope this finds you and your families, friends and pets safe and well in what are undoubtedly very challenging times.
This isn't the newsletter I thought I'd be writing when I signed off at the end of February's Meezer Musings. We now find ourselves in an altered world - for many of us, normal life has become a memory and around the world 'sheltering in place', 'self-isolating' and 'social distancing' have become our new watchwords.

Wherever you are I'm sure you're wondering what the implications of the Covid-19 pandemic, caused by a new coronavirus, will be for you and your future and also what it might mean for your cats.
We'll explore something of that below.

But Spring is on its way and Easter's here, so let's start with a bright, uplifting image from artist AmyLyn Bihrle to bring us all a little cheer.

Covid-19: Implications for You and Your Cats

Covid-19 is the name of the illness caused by the new coronavirus known as SARS-CoV-2. Coronaviruses are a family of infectious diseases that are also responsible for the common cold; however, as we're seeing, SARS-CoV-2 is much more dangerous, causing serious illness and death.

Can cats catch Covid-19? Could they pass it on to you? There's still a lot we don't know about this virus, and new information is coming to light all the time. So let's investigate what's known so far.
Extensive testing carried out in March by a leading veterinary diagnostic company, IDEXX, showed no clear evidence of pets catching the virus. However, a new study, published as recently as Wednesday, reports that although dogs seem to be less prone to the disease, cats can become infected.
There have been reports of a cat in Belgium and more recently, tigers at the Bronx Zoo in New York City, being diagnosed with Covid-19.
So what does this mean for you?
If you and your animals are currently healthy and you're keeping yourself isolated, you're in a good position. However, what this latest study does show is that if you do contract Covid-19, it's probably a good idea to isolate yourself both from other humans and your pets, too - particularly cats, who appear to be more susceptible to catching the virus than dogs.
In terms of cats spreading the virus to you, the main risk would be from animals allowed to roam outside. Even if your cats aren't ill themselves, the coronavirus has been shown to remain for several days on surfaces (24 hours on paper/card, 72 hours on plastic) and cats might pick the virus up on their coats if they were touched by someone who was already infected.
Most of us probably don't let our cats outside unsupervised but if you do, this might be a good time to consider buying a harness or creating some kind of outdoor enclosure or catio (which we talked about last October).
However, if you have a cat that gets stressed when kept indoors all the time and absolutely must go outside, or if you look after feral cats that aren't able to live indoors, International Cat Care and the International Society of Feline Medicine have stated that they do not recommend that all cats are kept indoors.
So if keeping your cat indoors isn't an option for you just now, make sure you practice good hand hygiene and wash your hands thoroughly after stroking your cat, if it's been outside. (As the article just-mentioned points out, it's not a good idea to use disinfectant on or around cats as many disinfectants can be toxic to felines.)

Making Sure Your Cats Are Cared For

While hoping above all that you're able to stay safe and well throughout this extraordinary time, now would be a good time to make provision for your cats to ensure they're fed and cared for, should illness strike.
It's important to find someone who'll agree to take care of your cats and any other pets. Is there a family member or close friend you can trust who'd be prepared to come in and look after them?
Or if not, a neighbor or another nearby cat owner? Perhaps someone who you could set up an agreed 'pet care exchange' with?
Once you've found such a person, you'll need to make sure they agree to be contacted in the event of your being hospitalized, and that they have a spare key and access to your house.
Next, you need to create a simple form to keep in your purse or wallet, giving instructions on who to contact in the event that you are taken ill. There's an example below, but you can of course include as many details as you like.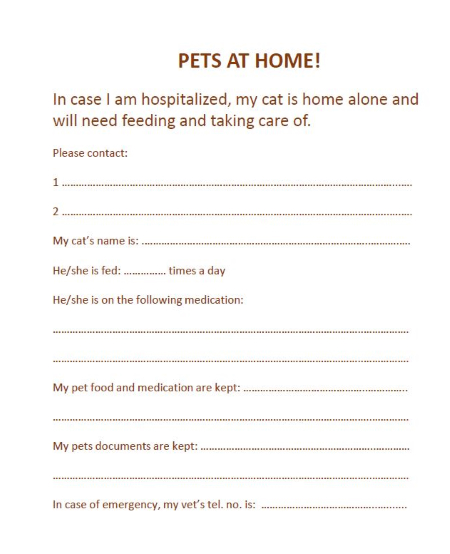 Check: Is Your Vet's Office Still Open?

Finally, one practical tip. Many vets' clinics may be closed at the moment, or only treating emergencies.
Now would be a good time to phone or email your local vet to check on when and how they're working, and find out how they're handling routine health checks and annual vaccinations, and dispensing flea, worm, or any other essential medications.

Tail End ...

Separation from loved ones is hard and many of us will be spending this Easter weekend (or other religious celebrations like Passover) away from our families. Let's hope the months to come bring more positive news.
Meanwhile, be kind to yourselves and give your cats an extra-special cuddle!

Life is especially unpredictable at the moment but I hope to be back again at the end of May; in closing I wish you a happy Easter, or, for those celebrating Passover, 'chag Pesach sameach'.

I'll leave you with another painting from AmyLyn Bihrle, this time of a Siamese cat giving her bunny a special Easter hug.

Caroline

Missed a Meezer Musings? A list of previous newsletters can be found here.


Some of the articles and newsletters on this site may contain links to products I think you may enjoy. If you purchase through these links I receive a small commission, but there's no extra cost to you. Find out more on the Affiliates Disclosure page.


Have You Discovered Our Newsletter?
If not, why not? Subscribe to our email newsletter, Meezer Musings, to stay in touch, be the first to see new information and pages as they come out, and read the things we only talk about in the newsletter.

Learn more about it on our Newsletter Sign-Up page.