Meezer Musings: May 2020
Star Quality Cats!

"Let's start at the very beginning, a very good place to start"
Oscar Hammerstein II. Do-Re-Mi  from The Sound of Music

Welcome to May's Meezer Musings! As the coronavirus continues to disrupt our lives and livelihoods, I hope you, your loved ones and your pets are safe and well and managing to cope with any restrictions you may be under, as well as the difficulties ensuing from them, whatever your circumstances and wherever you live.

The things that matter most to us all, in terms of safety, are a roof over our heads, food, water, physical health and mental wellbeing. At the beginning of our lockdown here in the UK my husband and I spent a good few weeks just taking care of these basics, for ourselves and other family members.
But once we'd done that and the initial shock of not being able to move around freely had passed, I looked for things to help entertain and sustain me and I've been enjoying a YouTube channel called 'The Shows Must Go On'.
The channel shows one musical a week, for 48 hours over the weekend. The latest of these was a stage version of The Sound of Music, which I haven't seen since the original movie with Julie Andrews.
Although I enjoyed this newer version, it wasn't, in my opinion, as good as the movie and it seemed to be missing that certain 'something' - the star quality that Julie Andrews possessed.
Which started me thinking about star quality.
Which, along with a book I'd taken out of the library that I'd been unable to return because of the lockdown, gave me the inspiration for this month's newsletter.

The book was Sally Franklin's The Complete Siamese, written in 1996. It's out of print now, although second-hand copies can still be found. It's a very comprehensive book, with (among many other things) all sorts of interesting details on the history and evolution of the Siamese cat.
So in order to 'start at the very beginning', let's take a look at a little history and, along the way, investigate the star quality that all Siamese cats possess, from the tips of their whiskers to the tips of their tails!
An Unnatural Nightmare Kind of a Cat?

Star quality was by no means in evidence when Siamese cats first began to be seen in the western world and it's on record that in 1871, at one of the first cat shows to be held in the UK, they were described as 'an unnatural nightmare kind of a cat'!

The early origins of Siamese cats are unknown, but the first known recording in print of a similar style of cat appears in a manuscript called the Smud Khoi of Cats, printed in the 1700s and kept in the National Library of Thailand.
One of the images in the manuscript shows a white cat with black ears, paws and tail, and a little coloring around the face, although in other respects the cat doesn't look much like the Siamese cats we know today.

However, for many years Siamese cats have been loved and revered by the royal family of Siam (which became Thailand in 1939) and even used in royal coronation ceremonies, and it was from Siam that the first Siamese cats were brought, often as gifts, to the UK and USA, appearing at cat shows in the UK from 1871 onwards.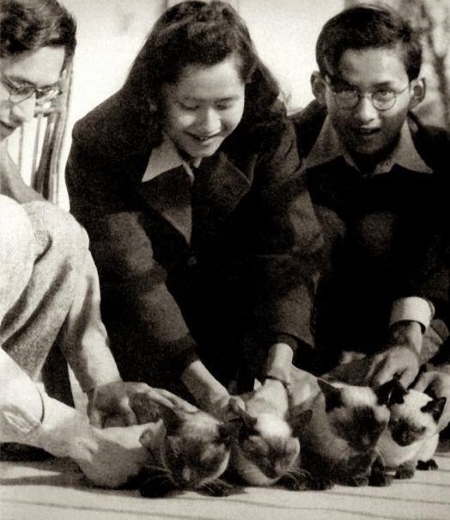 Former Thai King Bhumibol with family members and cats
Crossing The Atlantic

One of the first Siamese cats to appear in America arrived early in 1879, surviving a two-month journey from Thailand to the United States.
This little female, Siam, was a gift to President Rutherford B. Hayes and made herself very much at home with the First Family, becoming the forerunner of several famous Siamese cats to grace the White House.
An original letter about her, sent from Bangkok by US diplomat David Sickels to First Lady Lucy Hayes, can be seen on the Rutherford B. Hayes Presidential Center website.
Siam was much-loved by everyone but became ill nine months after her arrival and sadly, even the best veterinary attention available at the time was unable to save her.
Her memory lives on in the official archives though, and she was succeeded in time by other White House Siamese cats, including Shan Shein, who belonged to President Gerald Ford's daughter Susan, and Misty Malarkey Yin Yang, owned by President Jimmy Carter's daughter Amy.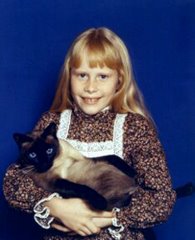 Amy Carter with Misty Malarkey Yin Yang
Image Wikimedia Commons
Stars of Stage and Screen

Siamese cats weren't only popular with White House families. Stars of stage and screen, musicians, authors and many others fell in love with their personality, beauty and mischief.
In the first half of the 20th century (and beyond) anyone who was anyone had to be seen with a Siamese cat on their lap.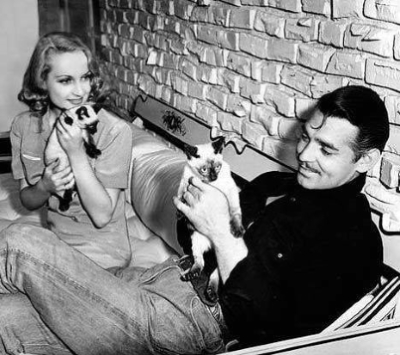 The cats take center stage
Clark Gable and Carole Lombard with their Siamese kittens
Actors to fall for their charms included Clark Gable and Carole Lombard, Laurence Olivier and Vivien Leigh, James Dean, Liz Taylor, Kim Novak, Marilyn Monroe, Sophia Loren, Claudia Cardinale, Anthony Perkins, Paul Newman and Michael Landon.
Singers included Davy Jones, Rod Stewart, Frank Zappa and Syd Barrett (a wide range of musical preference there) and artists (Andy Warhol) and comedians (Ricky Gervais) have all been photographed with Siamese cats.

Hollywood Beckons

With the increasing popularity of Siamese cats among actors and actresses it was almost inevitable that Siamese cats should end up in the movies.
Their very first appearance was in The Wizard of Oz (1939) and it was a fleeting performance - blink and you miss it! But that Siamese cat played a very important role. If you know the movie, it's the reason Dorothy doesn't leave Oz in the wizard's balloon as planned.
The wizard, Dorothy, and her little dog, Toto, are all in the balloon's basket preparing to leave when Toto spots the cat and gives chase, jumping out of the basket. Dorothy heads after Toto and meanwhile, the balloon handlers lose control and the wizard drifts away, leaving Dorothy stranded.
All's well that ends well, though, as Glinda, The Good Witch of the South, helps Dorothy to get home with a click of her sparkling red shoes and the magical words, "there's no place like home" ...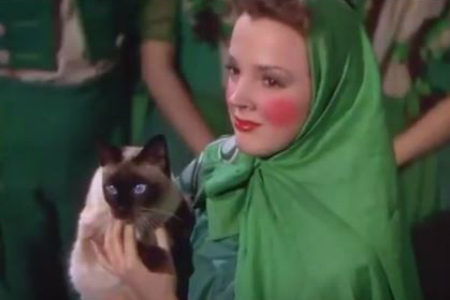 Siamese Cat and Munchkin
The Wizard of Oz (1939)
Up To More Mischief

Further movie appearances followed, including Bell Book and Candle (1958) about an apartment-dwelling New York witch (Kim Novak) and her Siamese familiar Pyewacket; The Incredible Journey, (1963) based on Sheila Burnford's book of the same name about two dogs and a Siamese cat, Tao, who make their way across 300 miles of Canadian wilderness to find their owners; and That Darn Cat! released in 1965, starring Hayley Mills and Dean Jones.
Not forgetting, of course, that mischievous cartoon pair Si and Am, in Lady and the Tramp (who, sadly, were written out of the 2019 remake of the movie.)

Tail End ...

No Siamese cats in this but here's a little fun for those who love The Wizard of Oz. Type 'wizard of oz' in the Google search bar to get a results page, then click on the red shoes in the box on the right hand side of the page. When you arrive at your destination, click on the twister in the resulting page to return yourself to Oz!
That's all for May. Life is both more predictable, as we develop new routines to stay safe from the virus, and less so - for who knows what will happen in the next few weeks or months? But I hope to be back again at the end of June.
Meanwhile, stay safe out there and give your 'star quality' cats an extra cuddle or two!

Caroline

Missed a Meezer Musings? A list of previous newsletters can be found here.


Some of the articles and newsletters on this site may contain links to products I think you may enjoy. If you purchase through these links I receive a small commission, but there's no extra cost to you. Find out more on the Affiliates Disclosure page.


Have You Discovered Our Newsletter?
If not, why not? Subscribe to our email newsletter, Meezer Musings, to stay in touch, be the first to see new information and pages as they come out, and read the things we only talk about in the newsletter.

Learn more about it on our Newsletter Sign-Up page.