Meezer Musings: November 2020
Tidings of Comfort and Joy (With a Little Taste of Hygge)
On this Thanksgiving weekend, a very happy Thanksgiving to our American friends and to everyone who celebrates the meaning of this holiday. This year, gratitude for our families and friends, our happiness and above all, our health, seems more appropriate than ever.
What a year it's been. As we head into the holiday season I expect most of us are reeling from the impact that Covid-19 has had on our lives and the losses it has brought, whether through loss of personal freedom, income, health or even, in the worst cases, loss of family members or friends.
This is the time of year when, usually, many of us are enjoying get-togethers with our families and looking forward to a month of lights and fun and holiday cheer.
It's also a time for hats and scarves and mittens and even tail-warmers (oh my!) as those of us in northern parts start seeing the first snows of the winter, demonstrated beautifully by AmyLyn Bihrle's Siamese friend below.
Snow may be more than plentiful in some parts, but fun and holiday cheer perhaps less so, so let's see if we can find some.

Meezer Musings this month can be summed up by the Norwegian and Danish word, hygge. Hygge is about getting away from the icy weather outside and creating an atmosphere of comfort and warmth, lights and sparkle, pleasure, friendship, shelter and cheer.
As is usual in November we're taking a look at gifts, stationery and other products featuring Siamese cats. Many of these have been created by crafters and designers who sell their creations via the online stores Etsy and Zazzle, together with a few products that can be found on Amazon.

Lights and Sparkle

This year many people seem to be craving an early start to the glow of the holiday season and have been putting their Christmas trees and lights up early. I love Christmas tree decorations, so as usual I've been on the lookout for Siamese-cat related ones.
Here's a small selection - they make perfect stocking fillers or little gifts, and some of them can even be personalized with your cat's name.
All the decorations below are handmade; clicking the images or links below them will take you to the crafters' individual stores where you can find out more about them. Better be quick though, as they tend to sell out fast.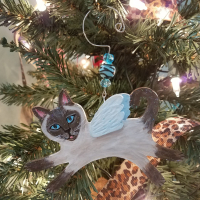 By KittyCatArtStudio (Etsy)
Sold Out
While you're decorating your tree, why not finish it off with a Siamese tree skirt? Reasonably priced and available from Amazon in several different sizes, this one will guarantee you a Meezer (several of them, in fact!) under the tree on Christmas Day.

Cozy (Cosy) Cushions

I didn't know until recently that there are two spellings of cozy (the American version) - also known as cosy (the British way). However you spell it, the word oozes snuggling up and comfort and warmth.

And who wouldn't want one of these beautiful cushions to snuggle up to? Online store Zazzle has a range of beautifully-designed Siamese cat cushions at the moment (many of them with Black Friday discounts this weekend!)

Below are four of my favorites. Again, clicking the photos or links below them will take you there.
For seasonal cheer, here's a festive cushion cover (note, though, that this is just the cover, it doesn't include the cushion) from Amazon. Imagine finding a furry gift like this under your Christmas tree!

Socks and Sweatshirts

Important elements in creating an atmosphere of hygge are warm socks and sweaters. The Zazzle designers don't let us down - here's just a small selection of the best of the Siamese cat sock designs from them.
I particularly like the rainbow socks! The leopard print ones are pretty cool too. However, if sweatshirts are more your thing, they've also got you covered.
The Spirit of Friendship

Many of us haven't been able to get together with our friends and families since early in the year and sometimes it may feel as if the world has forgotten us. This year it's probably more important than ever to remember and contact faraway friends, so if you're planning to send Christmas cards, here are some you may like.

Suzanne Le Good always has a selection of Christmas cards available on Etsy. The ones below come in packs of five and feature a range of cats with different point colors, hand-decorated with glitter.

If a vintage 1950s look is more your style, check out the two handmade card designs below from Vintage Images UK.
The first features a mischievous, slinky Siamese swatting a glass tree ball, and in the second, a pair of lovers cuddle up for a kiss under the mistletoe.
Unusual and delightful, you can find out more about both cards by clicking the images or the links below them.

Our final card selection has an Art Deco feel and contains four cards featuring a little flame point having fun in a snowy landscape with a range of seasonal, rather than specifically Christmas, messages - good will, joy, hope and peace.
The cards are blank inside, so they'd be suitable for any winter holiday or New Year greetings.

But What About the Meezers?

So far the items above have been for the delight of humans, but what about our Meezer pals? There's an account I follow on Twitter - a family of two humans, one long-haired black cat and three Siamese youngsters.
They've had a great deal of fun and laughter from the Flippity Fish below, which seems to be eagerly anticipated and enjoyed by everyone. So in case you're in the market for a new toy, this one, available on Amazon, might just fit the bill.

Tail End ...
I hope you've enjoyed our prowl through all the Siamese goodies. If nothing else, the sheer variety on offer goes to show that Siamese cats remain as popular as ever!

2020 has been a tough year for so many - not the exciting year we may have anticipated last December. With several vaccines on the horizon, though, there is at least a little light up ahead so let's hope for better times to come.
I'll be back at the end of January with another Meezer Musings, and in the meantime I hope you remain safe, happy and healthy.
Wishing you a very warm and comforting festive season.

Caroline

Missed a Meezer Musings? A list of previous newsletters can be found here.


Some of the articles and newsletters on this site may contain links to products I think you may enjoy. If you purchase through these links I receive a small commission, but there's no extra cost to you. Find out more on the Affiliates Disclosure page.


Have You Discovered Our Newsletter?
If not, why not? Subscribe to our email newsletter, Meezer Musings, to stay in touch, be the first to see new information and pages as they come out, and read the things we only talk about in the newsletter.

Learn more about it on our Newsletter Sign-Up page.