Allergic to cats (and loving it)
by Randy
(NJ)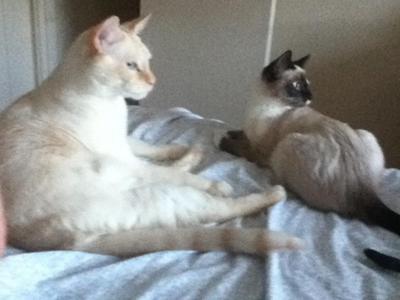 Hanging with Meeya (fighting over the space at my feet)
I have two babies, neither walk on two legs!

Three years ago my boyfriend called me up to ask if I wanted a kitten from behind Kohl's. I laughed at him - first off I'm not a cat lover (well, I wasn't) and second, I'm highly allergic to animals.

This kitten was dirty and hungry ... and I fell in love with him after seeing two photos that showed how friendly he was, and downright beautiful. Thank God I gave him the time of day because now I know I'm actually not allergic to Flame Point Siamese - and he's my little baby.

His name is Binks, after the black cat in the Disney movie Hocus Pocus, since at four months Binks was all white!

Every day I find something new to figure out about cats and Binks.

Why does he yell at me to wake up for no reason, why does he only blink at my boyfriend but sleep with me? I can go on and on as to how I try and understand this Siamese!

He opens and closes doors, plays golf in the tub, knows better than to kill bugs and bring them to me (instead he finds them and yells for me to kill them - LOL!)

I've noticed that most flame points are rescues, anyone know why this is?

Anyways - now, three years later, we just introduced a Snowshoe, our new baby, Meeya, and they were buddies within hours, which is amazing. I've tried to introduce my friends' cats (different ones and breeds) many times and Binks was not happy.

But I guess Siamese know their own!


Reply from Caroline:
Welcome Randy and Binks and Meeya! It's good to hear rescue stories like these (although I've never heard of anyone who was allergic to animals deliberately taking on a new cat before!) and I'm glad it all turned out so well for you.
I don't know why so many Flame Points turn up in rescues - perhaps when they're young they're so pale that people don't know what they've got?
I've given up trying to understand why Siamese cats do the things they do! A great mystery ... but they're certainly lots of fun when they're doing it!
Related pages:
---
---
If you enjoy our work, why not
sign up for our newsletter,
Meezer Musings?

An opportunity to share my reflections on life with
Siamese cats, stories in the news, photos, tips, goodies,
and our Meezer of the Month!

---
Like us? Please share us with
your Siamese cat-loving friends


---

Home  .  Sitemap  .  Privacy Policy  .  Affiliate Disclosure  .  Resources  .  About  .  Contact
Information provided on this website is not intended to replace professional advice. If you have any concerns at all about your cat's health, please consult a vet.
Copyright © 2009-2019 Caroline Haines, Life with Siamese Cats. All rights reserved.


---