The Flame Point Siamese Cat
Just what is a flame point Siamese cat?
These beautiful cats have bright, reddish-gold points and brilliant blue eyes. They have creamy-white, short coats, and look like Siamese cats. But are they?

There's a lot of talk about the Siamese flame point, but would you believe that, technically at least, 'flame point Siamese cats' don't seem to exist?

You see, it's like this.

---
Advertisement

---
What the breed registries call this kind of cat
In the UK, this kind of cat is called a Red Point Siamese. It's officially recognised by the Governing Council of the Cat Fancy as being Siamese, but it isn't known as a Flame Point.

It's the same in Australia. The Australian Cat Federation also calls these cats Red Points.

And over in the States, the Cat Fanciers' Association (CFA) doesn't even include cats with this red coloring in the Siamese breed, classifying them instead as ColorPoint Shorthairs – a separate breed.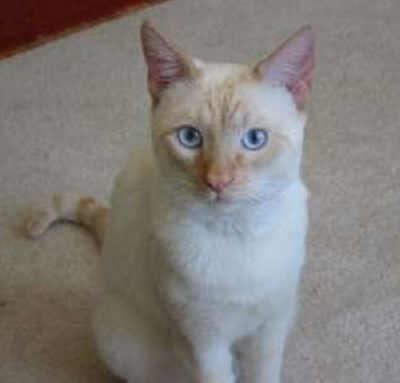 What d'you mean, I don't exist?
photo: © Chris Wood | Creative Commons


But even in the CFA, they're known as Red Points, so a cat like this would be known as a Red Point ColorPoint Shorthair, not a FlamePoint Siamese.

Other US cat registries do acknowledge these cats as Siamese, but they also call them red, not flame.


Borrowed from the Himalayan breed?

So where do the expressions 'Flame Point' and 'Flame Tip' Siamese cats come from, if none of the breed standard guides from the cat registries around the world call this color pattern 'flame'?

Flame Point seems to have been borrowed from the Persian and Himalayan cat breeds (the Himalayan is a Persian/Siamese cross) – where the term Flame Point is used to describe this coloring.

It may have been attached to Siamese cats because it sounds nicer (and more romantic, perhaps?) than plain-old Red Point.


So a Flame Point Siamese cat is actually a Red Point?
Yes. As with the Tabby or Lynx Point, it's a case of same cat, different name!

You can read more details about the Red Point on its own dedicated page, but here's a quick run-down on what it should look like:
Coat: warm, creamy white
Eyes: brilliant intense blue
Points: bright reddish-gold, with legs and feet paler
Nose, eye rims, paw pads: pink
You'll notice that most Red (Flame!) Points have some striping on their faces, legs and tails.
You can see this striping in the picture above. This happens because it's extremely difficult to breed these originally tabby markings out of any red-pointed cats.

Flame (Red!) Point kittens are, like other Siamese cats, born pure white and develop their point color over several months.
Flame Point coloring keeps on deepening with age and may continue to get stronger and darker up to around two years old.

---
Advertisement

---
More Unusual Colors

---
Readers' Flame Point Stories and Questions
Discover more about flame points from our visitors in their stories and questions below:

---
If you're enjoying your visit, why not
sign up for our newsletter,
Meezer Musings?

Reflections on all aspects of life with Siamese cats, from stories in the news to cat care tips, books, photos, and other goodies!

---
Like us? Please share us with
your Siamese cat-loving friends!


---

Home  .  Privacy Policy  .  Affiliate Disclosure  .  Sitemap  .  About  .  Contact
Information provided on this website is not intended to replace professional advice. If you have any concerns at all about your cat's health, please consult a vet.
Life with Siamese Cats does not sell any personal information from this website.
For further information please see our Privacy Policy.
Copyright © 2009-2021 Caroline Haines, Life with Siamese Cats. All rights reserved.


---