Bushii the Bengal?
by James
(Mountville, PA)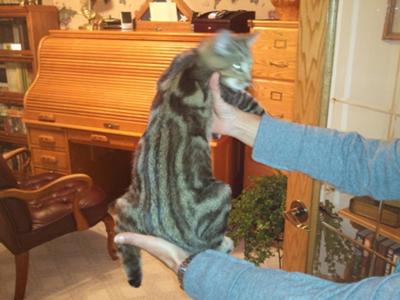 As I stated in my previous post (Inferno, the flame point Siamese), my mom found Bushii in late October 2010. He has beautiful marbling like some Bengals, but I am not sure if that is a trait of any other breed. Also, in the pictures, he appears to have "glitter" in his coat that is a very desirable trait of Bengals.

He is a tiny little guy at 8 pounds. The vet thinks that due to malnutrition during pregnancy and infancy, his growth was stunted, and he will always have the "kitten" look to him.

I have just recently moved to Pennsylvania, and my mom has had Inferno for the past two months while I found a place to live. In those two months, he and Bushii have become the best of friends. The two of them will keep my parents up until the late hours of the night with their horseplay and wrestling.

Because they are so close, my mom has decided to give me Bushii as well so that Inferno will have a companion while I am at work during the day. She has two tabbies already.

Next week they are bringing Inferno and Bushii to me, and I am ecstatic. It has been a long two months. Judging from his markings, would you think he is a Bengal?
Have You Discovered Our Newsletter?
If not, why not? Subscribe to our email newsletter, Meezer Musings, to stay in touch, be the first to see new information and pages as they come out, and read the things we only talk about in the newsletter.

Learn more about it on our Newsletter Sign-Up page.