Inferno, the Flame (Red) Point Siamese
by James
(Mountville, PA)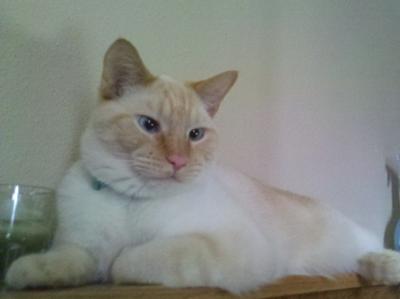 Hanging out on the ledge
Inferno our flame point Siamese is very social, but not a lap cat. He is always in the same room as everyone else and is also the first one at the door to greet whoever is coming in.

I would say that he is probably an Applehead, as he is 15lbs without being fat at all. Whenever I take him to the vet he receives very high praises both for his personality and his charming good looks.


Reply from Caroline:
Thanks James for your picture and story about Inferno, which is such a great name for a flame point!
He's a beautiful boy and looks very serene gazing down from his ledge. I was amused by your story as all the Siamese cats I know always do seem to be first at the door when the doorbell rings, it must be in their DNA!
I had to go off and do some research in order to be able to answer your question! I can't say for sure exactly what you might call Inferno, because all the different 'red' variations of Siamese cats - the solid cream, apricot and red (flame) points, as well as the tabby (lynx) versions of cream, apricot and red points - can all look very similar.
All of the above have resulted from experimental breeding over the years, so without knowing a cat's lineage, it's almost impossible to tell.
So Inferno could be what we here in the UK call a red tabby point (in the US this would probably be known as a flame lynx point.)
Or otherwise he might be a plain flame (red) point. But it doesn't really matter, he's beautiful, whatever he is. With a Siamese 'mix' you will almost always get some striping.
Regarding your question about size, I would say that 15 lbs is towards the upper end of the range for Siamese cats - most of the modern show-style ones are very much smaller than that, and my own cat (who I consider to be big for a Siamese) weighs around 13.5 lbs.
Have You Discovered Our Newsletter?
If not, why not? Subscribe to our email newsletter, Meezer Musings, to stay in touch, be the first to see new information and pages as they come out, and read the things we only talk about in the newsletter.

Learn more about it on our Newsletter Sign-Up page.