Dutchess - Royalty From a Cardboard Box
by Dan Rodden
(Buffalo, IL)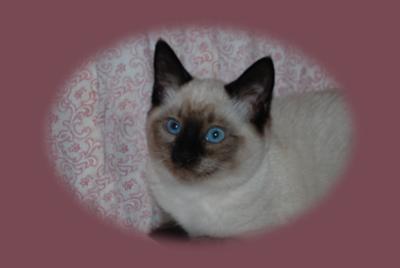 Dutchess (The Girl One)
Dutchess and her brother came to us via a cardboard box left outside the garage where I park my school van. Undernourished and not yet weaned, Dutchess (I call her Girl One) looked more like a baby opossum than a kitten.

Our vet was dubious about her survival, but eyedroppers full of milk replacer and an iron will has brought her to where she is now.

She came to us with her brother, an orange tabby, and they are inseparable. The vet tried to separate them during their latest visit, but to no avail. They both raised Cain until they were reunited.

This is just the beginning of the story...they are only four months old.
Have You Discovered Our Newsletter?
If not, why not? Subscribe to our email newsletter, Meezer Musings, to stay in touch, be the first to see new information and pages as they come out, and read the things we only talk about in the newsletter.

Learn more about it on our Newsletter Sign-Up page.