Siamese Cat Adoption Stories
Siamese Cat Adoption Stories
Have you ever rescued or adopted a Siamese cat or kitten? Why not share your Siamese cat adoption story with us? Build a page about your cat?

You can do this by visiting the 'Your Photos and Stories' page (see the buttons on the left) but in the meantime, here's my own rescue story, which is followed by others from visitors to the site.


Bandit, the cat with no name

I'd been thinking about Siamese cat adoption for a while, mainly because we'd been 'adopted' ourselves by a neighbor's Siamese, who visited us every day to nap in our living room for a few hours before trotting home again.

This rekindled my interest in Siamese cats, so I looked for a rescue and adoption center. I fell in love with a picture of a male seal point on their website. He just seemed to have my name on him!

But I was about to go away on a business trip, so I promised myself that if he was still there when I got back I'd contact the adoption center straight away.
Which he was, so I did.


First meetings ...

I learned that the cat (he didn't have a name, then) had been at the Siamese rescue center for about three months.
He was a stray and although many efforts had been made to find someone to claim him, no-one had come forward and because he wasn't microchipped, there was no way of tracing his owners.

The rescue center wanted to meet my husband as well as me, so one rainy day we drove over to be 'vetted', and, of course, to meet the cat.

Once we'd decided to go ahead, an adoption volunteer was sent to inspect our home to make sure that it was safe and suitable for cats, and after we'd been checked out we got the news that we could go and collect him.

I was a bit nervous about bringing him home! He seemed to be a pretty laid-back cat, but you can never tell how long a rescue cat is going to take to settle in.


Making himself at home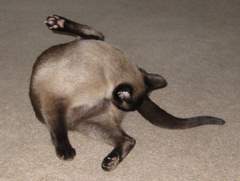 He kept up a constant miaowing from his carrier in the back of the car through the whole journey. This is not a cat who likes car journeys!

I needn't have worried. Within minutes of being let out of his carrier, he made himself right at home, as you can see!
Some rescue cats can be very nervous and hide themselves away, taking months to settle in. This was not one of those cats. He quickly learned to make himself understood – 'FOOD!' and 'TUMMY RUB!' are his favorite commands.

It took a few days to find a name that suited him, but eventually we called him Bandit because he looks as if he's wearing a mask.

He was a stray, so we don't know his age. The rescue center and our vet reckon that he was about four or five at the time of adoption.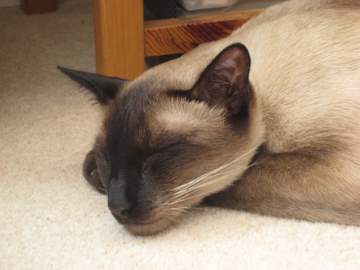 All images © life-with-siamese-cats.com


---

More about adopting cats:

---
Read other Siamese cat adoption stories here
Click below to see other visitors' adoption stories - there are some lovely ones ...

---
If you're enjoying your visit, why not
sign up for our newsletter,
Meezer Musings?

Reflections on all aspects of life with Siamese cats, from stories in the news to cat care tips, books, photos, and other goodies!

---
Like us? Please share us with
your Siamese cat-loving friends!


---

Home  .  Privacy Policy  .  Affiliate Disclosure  .  Sitemap  .  About  .  Contact
Information provided on this website is not intended to replace professional advice. If you have any concerns at all about your cat's health, please consult a vet.
Life with Siamese Cats does not sell any personal information from this website.
For further information please see our Privacy Policy.
Copyright © 2009-2021 Caroline Haines, Life with Siamese Cats. All rights reserved.


---