Generations of Siamese
by Gwyn
(Newport, Wales, UK)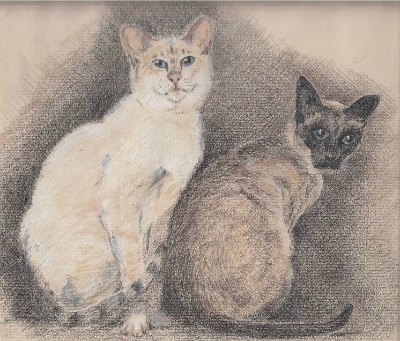 Thomas and Purdy, drawn by an artist
Where to start? Many years ago I bred Siamese cats, but gave up when the fashion for gangly pencil-sharpened noses went too far, in my opinion.

But I've always loved their enthusiasm for life, their proud and independent nature, strong loyalty and inquisitiveness, with a frustrating habit of walking over my keyboard when I'm trying to type stuff.

Anyway ... we had a pair, a Chocolate tabby male, Thomas, and a Seal female, Purdy.

We'd had Thomas for some time when Purdy arrived as a kitten and we expected some fur to fly on meeting. We left them alone overnight, expecting the tom to assert his authority, but in the morning we peeked in and saw the kitten swinging happily on his tail which was dangling over the edge of a chair.

He was her slave then and forever more through their next sixteen years together.

She was - um - talkative! He never said a word unless someone stepped on his tail, and then his indignation was perfectly and forcefully expressed!

When Purdy had been naughty, she'd hide. Unfortunately, she was unable to keep quiet and a quick tour around the house always brought a pained wail from inside the wardrobe or wherever.

When they were about six or seven we moved to the country and it took years off them - they spent the next year or so reliving their kittenhood, running up trees, chasing each other, and harvesting mice to leave in our shoes.

As they grew older, they became more attached to us and spent more time on laps and on the backs of chairs, where Thomas would regularly fall asleep and roll off the chair and into the wastepaper basket, claiming always to have done it deliberately just to keep us on our toes whilst embarking on a good grooming to recover his dignity.

He was always a calm, laid-back, tolerant kind of cat whereas Purdy was very highly strung and any noise would cause her to panic and run away - always pausing some ten feet away to try to work out why she had run.

On one occasion we tried her with a spray-on flea treatment. We put her harness on and I held her firmly whilst my wife applied the spray ...

... and one half of one second later I was holding an empty harness and we were both looking up wondering how we would detach her from the ceiling tiles!

They were a perfect old married couple that had a litter before neutering and spent their time between bickering, cuddling and complaining.

When Thomas died, Purdy was bereft and inconsolable. My wife made a baby sling to keep her close and that was where she resided for most of the next year until she went to join him.

We missed them terribly, their intelligence, conversation and wit, we even missed their moaning and complaining and vowed never to have any more pets as we considered them irreplaceable.

But ... after some ten years or so, we were asked for an opinion on two rescued Siamese that would not eat, drink or even come out of their blankets because they were traumatised and terrified of humans.

When one of them finally came out to sniff me we were presented with two cats, baskets, and food and were out of the door in fifteen minutes - but that is another story!


Reply from Caroline:
What a lovely story, Gwyn! In the same way as Doreen Tovey did in her wonderful Siamese cat books, you perfectly captured what it's like living with Siamese in the house.
I particularly liked the bit about Thomas rolling off the chair in his sleep and then pretending that was what he'd meant to do all along! Siamese cats are so like that ...
If you've enjoyed Gwyn's story, you might also like:
Have You Discovered Our Newsletter?
If not, why not? Subscribe to our email newsletter, Meezer Musings, to stay in touch, be the first to see new information and pages as they come out, and read the things we only talk about in the newsletter.

Learn more about it on our Newsletter Sign-Up page.