Jazz: the Flame Point Siamese Kitten
by April
(Alabama)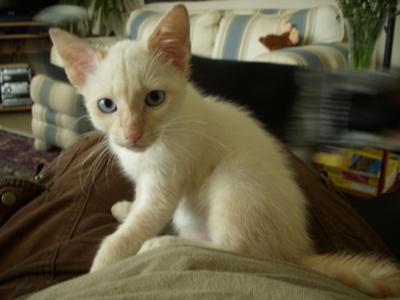 Jazz: flame point Siamese
One hot night in Alabama....while watching a movie still at 2am, a faint little miaowww caught my attention outside. As I open the front door, I barely can discern a scrawny white kitten under the car.

Shaking and timid but definitely vocal. I haven't seen any stray cats in this area and the few neighbors with cats I know are spayed and neutered. It took almost an hour and a trail of ham slices but we managed to invite the little creature inside the house.

For some reason, I call it Jasmine! We finally get a good look at it: it is scrawny indeed! Its neck as thick as my little finger, just skin and bones. Such white body, short hair but huge cinnamon ears and tail and almond shape blue eyes.

Looking a little closer, Jasmine is a HE! but for some reason, he reminds me of a jasmine flower and so Jasmine became...Jazz. He is riddled with fleas and inside his ears are black with ear-mites. As feral as he seemed at first outdoors, his behavior changed instantly indoors and within minutes, he lets me grab him, pet him and stops shaking.

We have no idea where this little guy came from, how he got here and why us???

Being a wildlife rescuer, I'm well equipped and have an in-house nursery with crates and cages. I place Jazz in quarantine for the night and will decide what to do with him tomorrow. Besides, I must protect my dog from diseased animals. We can't just keep any creature showing up. Already we have a rescued bluetick-coon(loving) hound and are in the middle of rehabbing four baby raccoons. I love cats but hubby isn't a cat person.

So, it's day one and Jazz gets his first bath and flea treatment. No fight, no attempt to escape, he has a great appetite and naturally uses the litter box placed in his quarantine crate.

While checking local shelters online, Jazz seems to be talking to me from his crate. OK, one more night maybe.

Then hubby said: this little guy just appeared out of nowhere, chose us and maybe is meant to be with us after all...let's just check how he and Sherman (our dog) will handle a meeting. We couldn't believe it: it was instant chemistry!

So...hubby loves him, doggy loves him and Jazz loves everybody! Well...you don't have to tell me twice! So off to the vet who confirmed that Jazz is a flame-point Siamese. He was 10 weeks old, weighing less than 2 lbs, by 13 weeks, he's now just over 3 lbs.

All vaccinations up to date, free from parasites, he is one of the happiest, healthiest kittens I have ever seen. And indeed, his behavior is typical of what I learned about Siamese too: vocal, attention seeker, stalking me from room to room almost dog-like and the absolute clown. Plus...he and the dog adore each other.

And this is how Jazz became our new permanent family member! Total rescue to date: One husband, one Coonhound, four raccoons and a flame-point Siamese cat!


Reply from Caroline:
This lovely rescue story actually brought tears to my eyes. Lucky Jazz, to find his 'right people' - he's perfectly placed to be cared for and loved.
He's s-o-o-o cute and beautiful, and what a great name! And (even though Siamese cats are known to get on well with dogs) how amazing that he got along so well from Day One with your Coonhound.
I hope he has a long and happy life with you. Thanks so much for sharing Jazz's story here!
Have You Discovered Our Newsletter?
If not, why not? Subscribe to our email newsletter, Meezer Musings, to stay in touch, be the first to see new information and pages as they come out, and read the things we only talk about in the newsletter.

Learn more about it on our Newsletter Sign-Up page.