Jinx. An Applehead Siamese?
by Kristen
(Louisville, KY)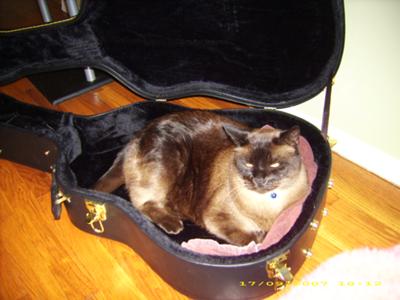 Jinx and the guitar case - an unusual bed!
I believe Jinx is an applehead Siamese. I have had him for four years now and have no idea how old he is. I found him as a stray, and though he was de-clawed and neutered no one claimed him, and so he became mine.

He is really dark and I would consider him to be an older cat. He is extremely vocal.

He was 18 lbs in the beginning and now he's down to 12 lbs, I try to maintain his weight because he will eat any and everything ... even the dog's food, cornbread and Cheerios. He acts almost like a dog!


Reply from Caroline:
Thank you Kristen for your photo and story of Jinx - he's a gorgeous boy. I agree that in type he's an applehead, as he has the rounded face and stockier body shape of the applehead.
In color he's like my Bandit, a very dark seal point - and seal points do have a tendency to get darker as they get older.
I love his bed in the guitar case - he looks so comfy there it could almost have been made to fit him!
Learn more about:
Have You Discovered Our Newsletter?
If not, why not? Subscribe to our email newsletter, Meezer Musings, to stay in touch, be the first to see new information and pages as they come out, and read the things we only talk about in the newsletter.

Learn more about it on our Newsletter Sign-Up page.