Mischief. A Flame Point Siamese
by Barb Carr
(NJ)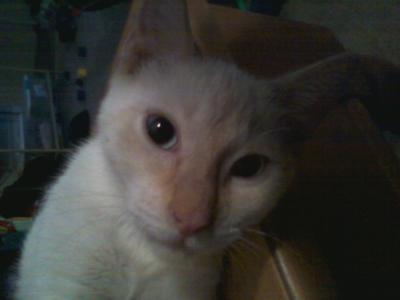 Mischief
I went looking around for a kitten for my family and I found a white kitten for free. The kitten in the pic I saw was sleeping on his back.

All I saw was white fur and pink nose and paws.

Thinking it was just a plain cat my son and I drove 30 minutes to get him. When we got there I was surprised to see the orange on him.

We took him home and got a real good look. His face was shaped like a Siamese! At this time I never heard of a Flame point Siamese, so I thought he might be a cross breed.

I got curious and found this site. Wow! What a discovery! He is so good to my two year old son and can't get petted enough.

I must say I am a lucky owner of a wonderful cat!


Reply from Caroline:
We've had quite a number of Flame point Siamese photos sent in over the years - the orange gene that helps to create the Flame point coloring must be a strong one. Mischief is a wonderful name for a Siamese cat!
More about Flame points and related colors:
---
---
If you enjoy our work, why not
sign up for our newsletter,
Meezer Musings?

An opportunity to share my reflections on life with
Siamese cats, stories in the news, photos, tips, goodies,
and our Meezer of the Month!

---
Like us? Please share us with
your Siamese cat-loving friends


---

Home  .  Sitemap  .  Privacy Policy  .  Affiliate Disclosure  .  Resources  .  About  .  Contact
Information provided on this website is not intended to replace professional advice. If you have any concerns at all about your cat's health, please consult a vet.
Copyright © 2009-2019 Caroline Haines, Life with Siamese Cats. All rights reserved.


---