My kitten can use touch lamps!
by Emily
(Swansea)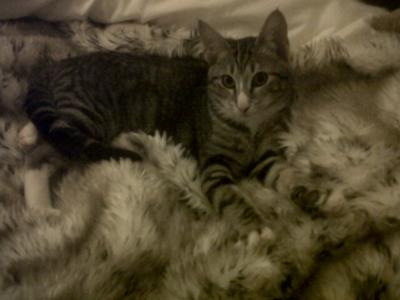 My 7-month-old Siamese-cross kitten was staying with my grandparents (he has 2 houses, and has adapted to them very well as though there is no difference at all!), and one morning he jumped up on the bedside table to wake my grandmother up.

He accidentally touched the touch lamp and it came on. This woke my grandmother immediately.

The next morning, she was already awake when my kitten jumped on the bedside table again. She was watching him through small eyes and he touched the lamp himself, and turned around and sat on the edge of the table looking at her until she woke up.

He did this again for another three mornings in a row!
---
---
If you enjoy our work, why not
sign up for our newsletter,
Meezer Musings?

An opportunity to share my reflections on life with
Siamese cats, stories in the news, photos, tips, goodies,
and our Meezer of the Month!

---
Like us? Please share us with
your Siamese cat-loving friends


---

Home  .  Sitemap  .  Privacy Policy  .  Affiliate Disclosure  .  Resources  .  About  .  Contact
Information provided on this website is not intended to replace professional advice. If you have any concerns at all about your cat's health, please consult a vet.
Copyright © 2009-2019 Caroline Haines, Life with Siamese Cats. All rights reserved.


---