Praia Fluvial Siamese Kitten Find!
by SusanJ
(Portugal)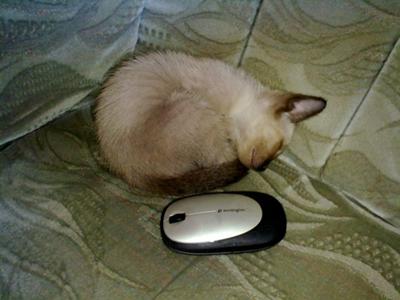 Safira and the mouse!
Well ... as is usual ... we were adopted just over a week ago! We live in northern Portugal and our son and his girlfriend were visiting us.

We decided to go to Praia Fluvial, the local river beach - we had never actually visited it before and had a lovely, if hot afternoon there.

I was sitting by the little café with my son's girlfriend when we saw this tiny scrap of life appear by the side of the café near the door.

The young girl serving happened to come out, and picked the kitten up, showing her to a friend who was standing nearby.

I went over to say how pretty the kitten was and to ask if I could stroke her ... the girl thought she was MINE! She explained that there were quite a few wild or lost cats that came around in the evenings to raid the bins, but she didn't know this one, and didn't know anyone in the houses (at least 500 yards away) that had one.

We left our phone number with the girl and took the kitten home. She had been climbing all over us like a friendly rash and was as good as gold in the car. We had visions of her climbing the walls!

She did hiss horribly at our over-friendly dog Bracken when we got home. They are gradually getting used to each other ... she is already trying to play with the dog's tail!

We have called her Safira (Sapphire in Portuguese), Saffy for short, because of her beautiful blue eyes! I think she is a seal point.

We found that she was already litter trained when we put down a small bowl and some soil (it was all we had) and she went straight in it. The next day we bought a tray and some silicon gel litter, and she has used it ever since.

We took her to the vet a couple of days later - and as she wasn't chipped, he chipped her for us, gave her her jabs and worming and a once-over saying she was very healthy and calm.

She is, most of the time! Really laid back for a kitten of any type (unless she is in 'hunting mode'!)

She is reasonably vocal already, and feeds well on the dry and wet kitten food we have supplied. She is still rather 'sucky', I would say more than usual for a little one. Our vet says he thinks she is around 11 weeks, but looking online at photos and weights of kittens we believe she is more like 8 weeks. She is quite small, only 780g or one and three-quarter pounds.

She has already tried to get into the chimney four times, found she can now reach the window sill and the counters in the kitchen ... and it looks like we are in for a fun life!

We used to have cats years ago, and had forgotten all this ... 'fun'! lol!


Reply from Caroline:
What a lovely story. Saffy already has an air of contentment as if to say 'these are my people now!'
She's a very pretty kitten, it looks as if she has quite long hair. It'll be fun to see how she grows and what she looks like later on. I think you're right, she does look like a seal point.
I'm glad she's getting on well with your dog. I always find it interesting how well Siamese cats get on with 'their' dogs - or dogs who belong to the families the cats 'own'!
Update: May 2013
We revisited this story on our Facebook page in 2013, and heard from Susan with this update: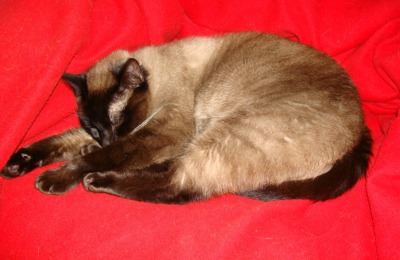 Lady in red
Wow! Hi! Saffy is doing just fine. She is very large, very good at catching giant green lizards (20 inches long) and is a complete cuddly toy!
She hangs on my shoulder, but puts both arms around my neck and cuddles in purring loudly and stays there. Always my left shoulder too ... and she seems so heavy.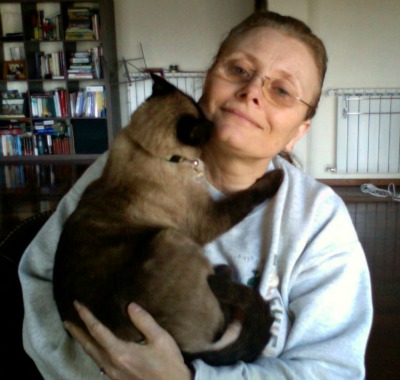 Safira - still a shoulder cat
She is much darker now ... black chocolate face, paws, tail and ears and even her creamy fur is now fairly dark. She isn't a huge talker, but gets the message across when she wants to!
She has a sweet soft high-pitched miaow rather than the deeper growly one.
Saffy - as we call her 'for short' is really called Safira, which means sapphire in Portuguese (where we live) because of her sapphire blue eyes.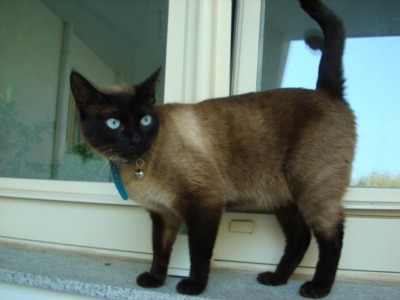 Safira's sapphire eyes
More heart-warming stories:
Have You Discovered Our Newsletter?
If not, why not? Subscribe to our email newsletter, Meezer Musings, to stay in touch, be the first to see new information and pages as they come out, and read the things we only talk about in the newsletter.

Learn more about it on our Newsletter Sign-Up page.