The Artist Formerly Known as Frank
by Sam
(Bristol)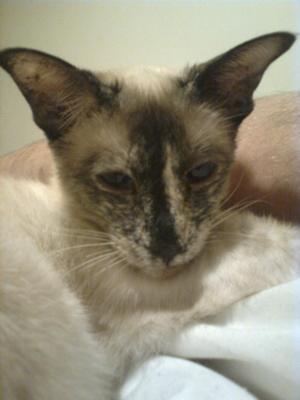 Seal tortie point Siamese
I work in a restaurant next door to my flat, and one Saturday in January I went outside for my cigarette break, and heard a mew, there was this TINY little kitten.

I found out afterwards she was about four months old, probably an unwanted present for Christmas - all skinny and starving, unable to walk, sitting right outside the front of the restaurant.

I gave her some chicken I had in my flat, and some milk (unaware that they shouldn't drink milk!) and a jumper to warm in. When one of the customers went out for a cigarette she saw the kitten and burst into tears, someone produced a cat box, and all of a sudden the whole restaurant was poring over this poor little mite.

The girl was going to take her home for the night and then take her to the Cats' Home in the morning, but I had an attack of compassion and said I would take care of her, at least until she'd been fed and checked out by a vet.

So I took her home and put her by the radiator, and bought a litter tray, litter and cat food. She mewed all night but in the morning was my best mate!

She's since been checked and she is unchipped and 100% healthy, although I had to get her spayed when her wailing kept all my neighbours awake!

She has bright blue eyes, and as I thought it was a boy, I called her Frank (after Ol' Blue Eyes of course), and when I found out she was a female had to make it Frankie!

She's great, I'm allergic to cats and hate pets but I take my allergy pills each morning and she has moved to Bristol with me where I live and work in a residential home for disabled people.

Some people look at me funny - being male and 6'3" tall a Siamese probably doesn't suit me, but I love her to bits!

She is totally house trained, friendly to everyone and other animals, I let her outside and she always comes back, loves chasing string but ignores her other toys, and has a Facebook page where she constantly mimics me!


Reply from Caroline (Admin):
Thanks so much, Sam, for your story and the photos of Frankie. Isn't she gorgeous? She's very unusual, with those markings she looks to me like a seal tortie point Siamese (or perhaps a dark blue tortie point, it's a little difficult to tell from the pictures.)
She's a real cutie and she's certainly made herself right at home!
I noticed that you said she wasn't microchipped and I wonder if you've now had her chipped?
If not, I'd strongly recommend it especially as she's an 'outdoor' cat - it does help with identification if for any reason she were to stray.
(I'm talking from experience here, as my own Siamese was once handed in to a vet by a misguided but well-meaning neighbour! Luckily, having a chip meant that he was quickly identified and returned to us.)
Good for you for rescuing and adopting her and I personally don't think there's anything wrong with a 6'3" male having a Siamese cat! Seems entirely normal to me ...
Have You Discovered Our Newsletter?
If not, why not? Subscribe to our email newsletter, Meezer Musings, to stay in touch, be the first to see new information and pages as they come out, and read the things we only talk about in the newsletter.

Learn more about it on our Newsletter Sign-Up page.