What Kind of Siamese Do I Have?
by April
(Tulsa, OK)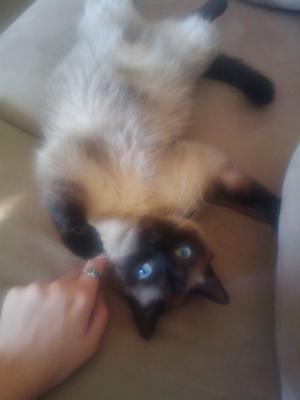 Mesha
I adopted my Siamese cat Mesha from the local Humane Society about a year ago and just love her. She plays fetch with me, curls up next to me every night, and is quite vocal.

However, I'm not 100% sure which type of Siamese she is. I'm thinking traditional. Anyone have an idea?


Reply from Caroline:
Thank you April, for your question and picture of Mesha. It's a little difficult to tell exactly what type of Siamese cat she is from the photo, as she's lying on her back so we can't see her body shape, but I think you're probably right, from her face shape Mesha does look more like an applehead rather than the modern, show-style type.
She might also perhaps be considered an old-fashioned Siamese, falling somewhere between the applehead and modern Siamese.
With her dark face, ears and paws I would say she's definitely a Seal Point in coloring.
Well done for adopting her! I always try and encourage people to consider cat adoption if they can, as there are plenty of great cats out there just waiting for their special owner and a 'forever' home.
Mesha looks like a very contented cat - she's very lucky to have found you.
Learn more about:
Have You Discovered Our Newsletter?
If not, why not? Subscribe to our email newsletter, Meezer Musings, to stay in touch, be the first to see new information and pages as they come out, and read the things we only talk about in the newsletter.

Learn more about it on our Newsletter Sign-Up page.