Meezer Musings: October 2020
Of Love, and Loss, and Saying Goodbye
"The one disservice animals render us is that they don't live as long as we do"
Doreen Tovey. The New Boy

Welcome to October's Meezer Musings. It's Halloween! A very happy Halloween to you.
Halloween - or Hallowe'en - takes its name from All Hallows' Eve, the evening before All Hallows' Day, also known as All Saints' Day.
In the Christian Church, All Hallows' Eve on the 31st October marks the start of a three day festival of remembrance for the departed; it's followed by All Saints' Day on November 1st and All Souls' Day on November 2nd (celebrated as Dia de los Muertos, the Day of the Dead, in Mexico).
Halloween also has its roots in the much older tradition of Samhain, a Celtic, pagan festival marking the end of harvest and the start of winter.

The Feast of Samhain
Samhain is seen as a time when the boundary between this world and the next becomes thinner and more permeable, allowing the souls of the dead to pass through and visit their old homes, in search of hospitality.
In an echo of today's trick-or-treating, offerings of food and drink were left outside for these unearthly visitors. This time of year is all about honoring the departed and all those we have loved and lost.

Planning for Loss

In this newsletter (which follows on from September's, when we looked at the health of older cats) we're going a step further, to consider the inevitability of the death of our pets.
As our opening quote by many-times Siamese cat owner and much-loved author Doreen Tovey notes, it's likely that your cats will leave this earthly life before you do. Most of us don't want to think about that; we can't imagine our lives without our cats.
But just as making arrangements for our own departure (wills, letters of wishes, funeral plans) can be helpful and reassuring, knowing what you'd like for your cats when they reach the end of their lives can help to support you through a very emotional time.
With plans in place, the main decisions have been made and the important details covered, allowing you to focus on your cat's final days as you say goodbye.

Thinking Ahead

On average, cats live for about fifteen years. Siamese cats tend to be thought of as a long-lived breed, and many Siamese cats do live into their late teens - some even into their twenties - but this would seem to be the exception rather than the rule.
Cats over the age of 10-12 are considered 'seniors' and it's around this time that many health problems (cancer, diabetes, liver and thyroid issues, heart and kidney disease) tend to become apparent.
Most vets recommend six-monthly check-ups at this age, to deal with any health problems as they arise. Keeping a close eye on your cat's health also helps you to prepare, mentally, for your cat's declining years.

Knowing When to Let Go

Pet owners often say that the decision to end the life of a much-loved cat (or any pet) is one of the most difficult they ever have to make.
Understandably, we don't want our animals to leave us, and it can be easy to let ourselves believe that they are less sick than they really are, especially with cats, who as a species are very skilled at hiding any signs of pain.
But neither should we want our cats to suffer.

In the end it all comes down to quality of life, which can be difficult to assess objectively. One tool that can help is the Quality of Life Scale, devised by Dr. Alice Villalobos, a veterinary oncologist.
The chart guides you in evaluating your pet's health according to seven criteria (pain, hunger, hydration, hygiene, happiness, mobility, good days and bad) on a scale of one to ten.
The higher the total score the better, but when the score falls below 35, and especially when there are more bad days than good, it's time to consider letting your pet go.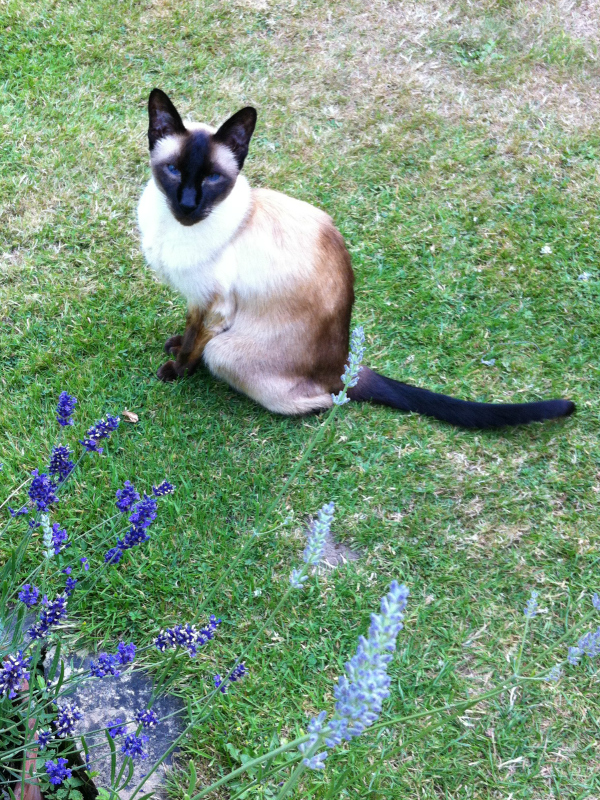 Bandit at 13, when he was diagnosed with kidney disease
Image copyright © Life with Siamese Cats
When, Where and How?

Once you know in your heart that the time is right, you'll need to decide when, where and how to say goodbye.
Much will depend on what services are available in your local area, but in normal times, your options are usually:
To allow your cat to pass at home in their own time, ideally with some form of home hospice, which you will need to discuss with your vet

Euthanasia in your home

Euthanasia at the vet's office

Covid-19 has of course made all of these more difficult, and much will depend on what your vet is willing and able to do, as many veterinary practices are not allowing clients into their clinics at the moment.
Some do make an exception for euthanasia, as discussed in this article from the American Animal Hospital Association.
The first two options above allow your cat to die in familiar surroundings, in the company of their human family and also in the company of other family pets. This allows any other animals in your house to spend a little time with the body, so that they can come to terms with the death in their own way.
You may prefer not to have your pet euthanized at home, opting instead for euthanasia at the vet's office. If you choose this option it's always recommended that you stay with your pet throughout (assuming that your vet will currently allow it).
Your presence will be very reassuring and it's the final kindness you can provide. It will also help to bring closure to you - euthanasia is generally very peaceful and quick, and most vets will allow you time to sit for a while with your animal afterwards to say a final goodbye.
I've found that it helps to schedule an appointment near the end of the day at a time when your vet is least likely to be busy, but your vet will be able to advise you on the most suitable time.

Most vets will sedate your cat before giving them the final euthanasia injection, but I've heard stories from people where this has not been the case so do, please, discuss this with your vet beforehand and make sure this is what they plan to do.
It's important for both you and your cat that these final moments are as calm and stress-free as possible.

And Afterwards?

You'll need to make arrangements for the disposal of your cat's remains - usually, a choice of burial or cremation.
You may wish to bury your cat on your own property (if local laws allow you to do this) and mark the site with a headstone or memorial, or perhaps to plant a flowering bush or tree over the grave.

An alternative, if you're not sure whether you'll always live at your current house or are planning to move in the future, is to consider burying your cat's remains in a large, deep plant pot so that you can take this with you when you move.
If you'd like your pet to be buried but are unable to do this on your own land, check whether there's a pet cemetery or pet memorial park in your area.

If you choose cremation, you'll need to decide whether you'd like the ashes returned.
If so, it's important to specify that you'd like a single (private) cremation, so that your cat is cremated individually. This can sometimes catch pet owners out because if you don't specify this, animals may be cremated communally, making it impossible to return your own pet's ashes to you.

You'll be asked to choose an urn or other container to house the ashes; there are many different styles and materials, from cat-shaped containers made of wood, stone or metal, to wooden boxes, ceramic urns and stained glass vases.

Don't be hurried into making your decision. Busy vets may want to rush you (or sometimes, not offer a choice at all), and it's well worth taking your time so that you get exactly what you want.

Grief and Loss

Grief, and coming to terms with loss, is a whole subject in itself and I don't intend to go into it deeply here. Very briefly, though, it's absolutely normal to grieve for the loss of a much-loved animal, and your grief will take as long as it takes.
Please don't let anyone tell you that 'you should be over it by now' or 'it was just an animal' - anyone who does say anything along these lines has probably never loved an animal themselves.
Pets are an enormously important part of our lives; for some of us, they are our whole lives. The death of a pet can trigger waves of anguish and grief that can lead to serious depression. If you ever find yourself in this situation, please consider enlisting the help of a bereavement counselor or trained therapist to support you.

Two well-regarded books on coping with the loss of pets are Grieving the Death of a Pet by Betty J. Carmack, and Coping with Sorrow on the Loss of Your Pet by Moira Anderson Allen, both of which you can find on Amazon.

Creating a Memorial

You'll probably want to create some kind of memorial to your cat, and there are many ways you can do this.
In picture form this might mean arranging a special collection of photos or having one or two photos enlarged and framed, or you could choose to remember your cat by having a special portrait of them painted; there are many excellent pet artists who provide this service.

If you prefer the written word, you might choose to create a special journal or scrapbook for your memories, or add your tribute to online memorial sites.

If you're good with crafts, there are ways of transferring photos to, for example, needlepoint canvas and stitching your memories, or if you're artistic, you could paint your own portraits.
Whatever method you choose (and it could of course be more than one of the above) you may also wish to preserve your cat's paw prints, or clippings of their fur. Many vets and pet cremation services can do this for you, as long as you make your wishes known.
Some people I know have even collected whiskers through the lifetime of the cat, and keep these with their memorials.

Bandit's favorite window sill
Image copyright © Life with Siamese Cats
When Bandit died I knew that I wanted a cat-shaped container for his ashes. I found a perfect little cat that now sits on Bandit's favorite scarf, on his favorite window sill, along with a print of Cindi Lynch's Siamese Cat Cradled by an Angel.

A similarly-framed photo of Bandit sits at the other end of the ledge, so that he can keep a permanent eye on the birds he so loved to watch.

For the Love of a Siamese Cat

Some months ago I bought a delightful book called Charles: The Story of a Friendship, by Michael Joseph, the publisher and author.
The book (out of print, but copies are still available occasionally on Amazon - check the used book section) tells of the loving relationship between Michael Joseph and Charles O'Malley, the Siamese kitten he buys in 1930 as an addition to a household that already included several cats including Minna Minna Mowbray, a pretty tortoiseshell tabby.
Charles enjoys life in London in the early 1930s, an army existence during the early years of World War II and an idyllic life on a farm until, in 1942 at the age of 12, he dies after a short respiratory illness.
The book ends with a poem written by Michael Joseph after Charles's death. The poem perfectly encapsulates the feelings of loss and grief experienced on the death of a much-loved cat, but ends on a positive note of remembrance and love.

To a Siamese Cat
"I shall walk in the Sun alone
Whose golden light you loved:
I shall sleep alone
And, stirring, touch an empty place:
I shall write uninterrupted
(Would that your gentle paw
Could stay my moving pen just once again!)
I shall see beauty
But none to match your living grace:
I shall hear music
But not so sweet as the droning song
With which you loved me.
I shall fill my days
But I shall not, cannot forget:
Sleep soft, dear friend,
For while I live you shall not die."
Michael Joseph
Charles, The Story of a Friendship

Tail End ...

I hope this has given you some food for thought, but if you take only one thing away from this month's newsletter, it should be that spending time deciding, while your cat is healthy and well, how you'd like things to be towards their end, will help and support you at a vulnerable time.
As it's Halloween ... last month's newsletter included some Halloween decorations featuring Siamese cats. I wondered whether there might be others, found some, and created a special page for 'Siamese Cats at Halloween' which you can find here; I hope you enjoy it!
That's all from me for this month but I'll be back at the end of November when, in a very different frame of mind, we'll be taking a look at Siamese-themed gifts, cards, decorations and other joyful goodies in our traditional Christmas Meezer Musings.

Caroline

Missed a Meezer Musings? A list of previous newsletters can be found here.


Some of the articles and newsletters on this site may contain links to products I think you may enjoy. If you purchase through these links I receive a small commission, but there's no extra cost to you. Find out more on the Affiliates Disclosure page.


Have You Discovered Our Newsletter?
If not, why not? Subscribe to our email newsletter, Meezer Musings, to stay in touch, be the first to see new information and pages as they come out, and read the things we only talk about in the newsletter.

Learn more about it on our Newsletter Sign-Up page.