Meezer Musings: January 2021
It's All in the Paw Pads

Happy New Year! And welcome to a new year of Meezer Musings!  I hope it's not too late to wish you a happy 2021 and above all, a safe and healthy one for you and your cats.
Covid-19 continues to rage here in the UK and with a lockdown in place, there are few opportunities other than to stay home and avoid the virus. To keep myself busy, one of my plans for the year is to carry out a review of this website to improve the existing pages as well as write new ones to fill in the gaps.
I'm also planning to change the website design. Not to make it look very different to how it does now - I want people to be able to recognize the site! - but to stand it on a modern framework which will, I hope, work better with today's internet demands for speed and mobile phone access.
All of which is an introduction to this month's newsletter topic. I started this site in 2009 - a lifetime ago in internet terms - and the very first pages I wrote were about the Siamese point colors.
I thought, this month, that we'd go right back to basics, focusing on the four Siamese 'primary colors' (seal, chocolate, blue and lilac) and consider a couple of questions that crop up time and again in social media and cat forums.

But first (it's relevant!) I'm going to begin this month's Meezer Musings by telling you a story or two.

How It All Began

Growing up, I seemed to be surrounded by Siamese cats. My own family had one for a while during a time when we lived overseas; one of my aunts, whom I visited frequently, adored Siamese cats and had a whole succession of them; various other friends and relations had them too.
I was fascinated. As you can see.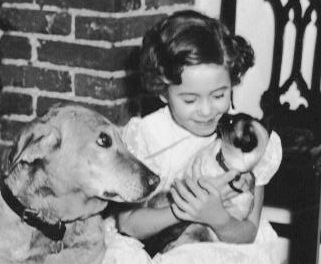 Early fascination
Image copyright © Life with Siamese Cats
In those days all the Siamese cats I saw were seal points and so, to me, all Siamese cats were seal points. I didn't know that there was any other kind.

Back to the Future

Fast forward to 2007. Settled, married, and with a home of my own (but no cats) I was in the house with the garden door open one sunny afternoon in early autumn when a Siamese cat strolled past. 
Like all Siamese cats, he was curious, but wary, and kept himself carefully out of reach. I crooned at him and he came a bit closer to check me out. That day he didn't come any nearer, but for several days after that (clearly on a regular patrol through the neighborhood) he'd stop and say hello.
Eventually he became comfortable enough to venture right inside the house and for several months after that he'd usually turn up at some time in the morning, accept a treat or two, and settle down somewhere comfortable for a nap - usually on a pair of dog beds just inside the garden door (bought for me by a friend who desperately wanted me to get a dog!)
Then, regular as clockwork, at around five o'clock in the afternoon he'd get up and leave.
(I later discovered that his owners were out at work all day and left him to come and go through a cat flap. He was obviously lonely without them and found, in me, working at home, a willing companion for his daytime hours!)
He was a beautiful cat with a very pale, almost white coat and milk-chocolate-brown points, quite unlike the dark-coated seal points I'd known earlier in my life. Later, I worked out that he was, in fact, a chocolate point.
A few months later he stopped visiting. I missed him.
I subsequently found out from his owners that he'd had a long-standing congenital health condition, and had become ill and died.
I never knew his name - I called him the 'Meezie Cat'.

I was enormously sad to hear of his death but it was because of him that Bandit came into my life. I'd enjoyed having a cat around and I'd always wanted a Siamese cat of my own, so I started looking at rescues.

Enter the Bandit
I've told Bandit's story elsewhere but by the time we took him in, he was four or five years old and had taken on the darkened coloring developed by most older seal points.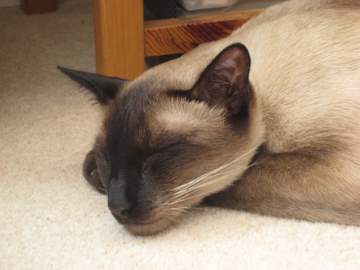 Forever home
Image copyright © Life with Siamese Cats
During my first visit to the rescue center that he came from, I was telling the story of my visiting chocolate point to the lady who ran it and, in a conversation about Siamese coloring she said "the way to tell for sure is to look at the paw pads. The paw pads never lie".
Which brings me to one of the main points of this newsletter, and one of the questions which often get asked, which is ...

How to Tell a Seal Point From a Chocolate Point

Of course, paw pads aren't the only indicator. Point color and coat come into it too, but if you're at all uncertain, check the paw pads.
The Governing Council of the Cat Fancy (GCCF), the main registration body for pedigree cats in the UK, defines seal and chocolate points as follows:
(To keep things simple I've shortened these, but if you're interested you can find the full Standard of Points, for every possible point color, here.)

Seal

Points
Dense warm seal brown

Body
Cream. Shading, if any, to be warm fawn, to tone with the points
Eyes
Clear, brilliant, deep blue
Nose Leather and Paw Pads
Seal brown
Chocolate

Points
Milk chocolate
Body
Ivory. Shading, if any, to tone with the points
Eyes
Clear, bright, vivid blue

Nose Leather and Paw Pads
Chocolate or pinkish chocolate

As you'll see, the definition of the nose leather and paw pads offers the easiest distinction. Are you looking at seal brown, or pinkish chocolate?
Below, there's a delightful photo sent to us by one of readers many years ago of Bailey, the seal point on the left, and Safire, a chocolate point.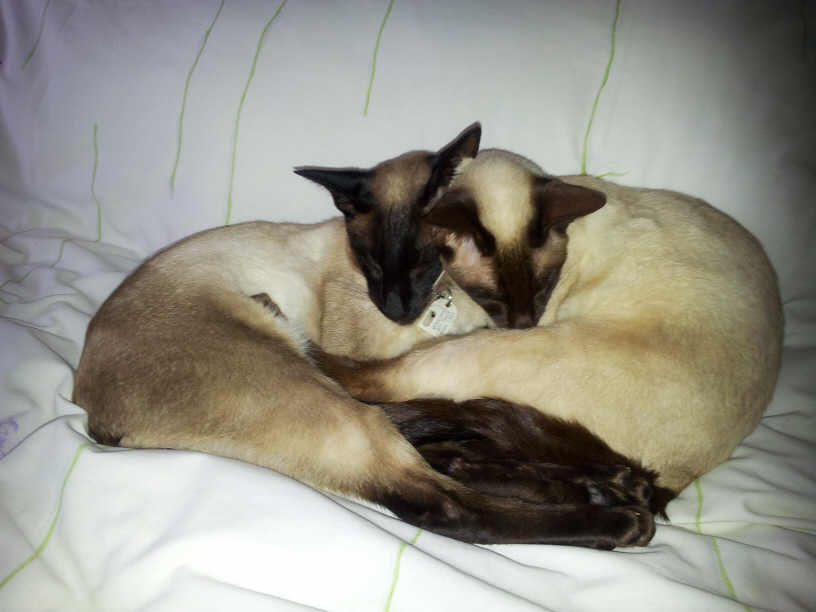 Bailey (seal) and Safire (chocolate)
Photo with thanks to and copyright © June and David Bloodworth
Compare their masks, their coats, and (what you can see of) their hind feet. Safire is a warm-toned chocolate point - my visiting 'Meezie Cat' was much paler.
In the photo below you can clearly see his pinkish chocolate paw pads.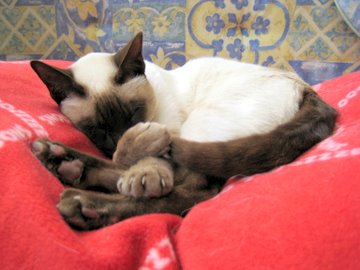 Pinkish chocolate, chocolate point paw pads!
Image copyright © Life with Siamese Cats
How to Tell a Blue Point From a Lilac Point

Similar questions are often asked about the difference between blue and lilac points. Turning once again to the Standard of Points, this is what we find:

Blue
Points
Light blue

Body
Glacial white shading gradually into blue

Eyes
Clear, bright, vivid blue
Nose Leather and Paw Pads
Blue

Lilac
Points
Pale grey, pinkish over-tone
Body
Magnolia. Shading, if any, to tone with the points.
Eyes
Clear vivid blue
Nose Leather and Paw Pads
Pale pinkish grey

It's worth noting that the Standard of Points, written for show judges, defines a blue point's nose and paw pad color as 'blue', which experts will instantly understand, but others might wonder about.
In other places I've seen this color called 'slate gray' which I think gives a better idea, to non-experts, of the color you're looking for.

The picture below was kindly provided by one of our regular Facebook visitors, Annamay Simpson, of her beautiful pair of blue and lilac points Bluebell and Snowdrop. Look at their noses - you can see the difference immediately. I'm sure they have paw pads to match!
You'll also note that lilac point Snowdrop's mask and coat are much paler than Bluebell's.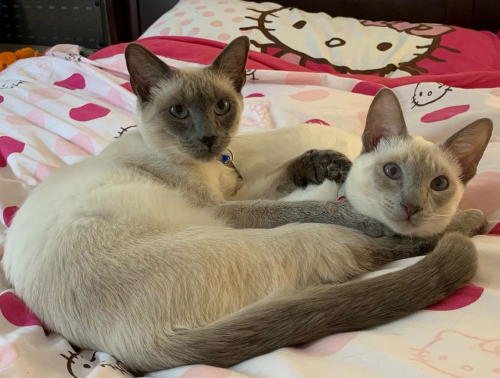 Blue point Bluebell (left) and lilac point Snowdrop (right)
Photo with thanks to and copyright © Annamay Simpson
Tail End ...
We'll finish up this month with another pair of blue and lilac points - this time artistic ones painted by Suzanne Le Good for her wonderful Valentine's Day card below.

Valentine's Day is coming up! There are more lovely Valentine's Day designs featuring Siamese cats in our dedicated Valentine's Day page. I hope you enjoy it. Happy Valentine's Day!

Have a very safe and healthy February, and let's hope that 2021 brings all of us health, happiness, and love.

Caroline

Missed a Meezer Musings? A list of previous newsletters can be found here.


Some of the articles and newsletters on this site may contain links to products I think you may enjoy. If you purchase through these links I receive a small commission, but there's no extra cost to you. Find out more on the Affiliates Disclosure page.


Have You Discovered Our Newsletter?
If not, why not? Subscribe to our email newsletter, Meezer Musings, to stay in touch, be the first to see new information and pages as they come out, and read the things we only talk about in the newsletter.

Learn more about it on our Newsletter Sign-Up page.