Meezer Musings:
May 2021


(Siamese) Cats on the Cover!


Welcome to May's Meezer Musings, which this month is all about books, and in particular, books about Siamese cats.


Books and Siamese cats run like a thread through my life - I've always been an avid reader, and I've always loved Siamese cats. From time to time here in Meezer Musings I've mentioned novels and other Siamese cat books, and over the past few weeks I've been working on creating two new pages for Life with Siamese Cats to list these books and bring them all together.

The pages aren't quite ready to publish yet so I'll post them when they're finished, but for now I thought I'd take you through some of my favorites, starting with some early ones and finishing with others that I've recently discovered. 
The Journey Begins

The first book I remember reading that featured a Siamese cat was The Incredible Journey. My aunt, who for as long as I knew her always had a Siamese cat in her house, may have had something to do with this, as for many years she also owned a yellow Labrador.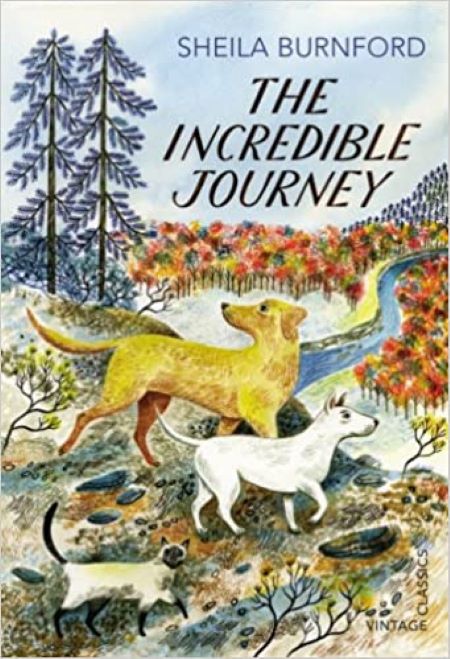 The Incredible Journey, by Sheila Burnford
The Incredible Journey features a Siamese cat, a young yellow Labrador and an older Bull Terrier. After a simple mishap leads to an unfortunate misunderstanding over their whereabouts, the three animals escape to make their way across 300 miles of Canadian wilderness in an attempt to rejoin their owners.
Faced with a series of challenging incidents involving fast-flowing rivers, porcupines, other wild animals, and humans both helpful and unhelpful, the three animals have to rely on each other's particular skills to keep them alive and moving forward.
The ending is an emotional roller-coaster as the three animals reach their home and family - will they or won't they?

Mayhem in the Movies
My aunt also took me to see That Darn Cat, starring Hayley Mills and Dean Jones. The 'Darn Cat', known as DC, was portrayed in the movie by a dark seal point Siamese.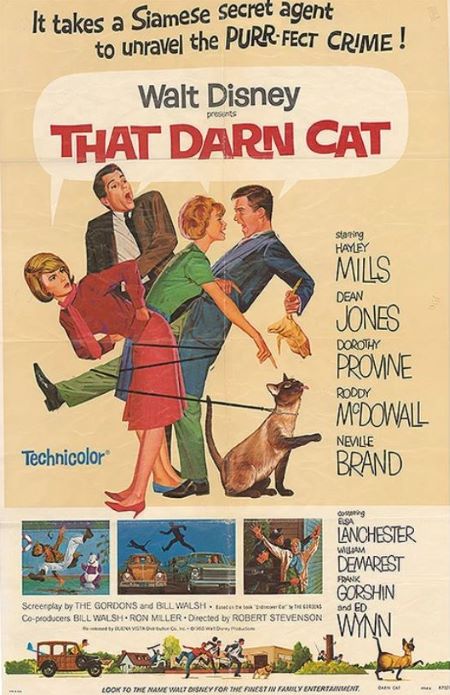 Promotional poster for That Darn Cat
The movie was based on a book called Undercover Cat. I didn't read the book at that time so, seeing a second-hand copy of it for sale on Amazon recently, I decided to buy it.
The copy I bought was probably released at the same time as the movie and features a Siamese cat on the cover with the tagline "The 009 Lives of a Siamese Secret Agent". 
Imagine my surprise, then, when I discovered that the cat in the book wasn't Siamese at all but a large, 25-pound, solid black cat. Such was the popularity of Siamese cats in the 60s that the Disney producers clearly felt that a Siamese cat would provide more 'star quality'!

Those 'Cats Who' ...

Nobody with a love of Siamese cats could have missed Doreen Tovey's autobiographical novels, revolving around her beloved cats and the other animals that populated her life, ranging from squirrels to donkeys.
Nine of these have recently been released in Kindle format in the Feline Frolics series - although sadly, these don't include her later books, Roses Round the Door or Waiting in the Wings, both of which are still difficult to find, and expensive if you do.

From Doreen Tovey I moved on to Lilian Jackson Braun's fictional world of reporter-turned-sleuth Jim Qwilleran and his Siamese sidekicks, Koko and Yum Yum. I've read a good number of the 'Cat Who' books over the years, but as there are sixty of them in all, I'm still working my way through them.
I love the quirky towns (Pickax and Brrr!) and the crazy characters created by Lilian Jackson Braun, based on her years spent in Bad Axe, Michigan.

Lilian liked to refer to her novels as 'classic mysteries' but the series was clearly a forerunner to one of today's popular genres, Cozy Mysteries.These, as I recently discovered, are series novels - generally, but not always, murder mysteries - containing no sex or violence; they're gentle, 'cozy' books.
Search Amazon for 'cozy mysteries' and you can find any number of niches including quilting, baking, herb-growing, witchcraft, sailing ... name any theme and there's probably a Cozy Mystery series or two around it.

And there are, of course, Siamese cat Cozy Mysteries too.

Murder, Mystery and Meezers

The first modern Cozy Mystery I read was Never Tease a Siamese by Edie Claire. I bought it for the title, but despite having a beautiful blue point on the cover the book is only slightly about Siamese cats. 
One of a series of murder mysteries featuring an amateur sleuth called Leigh Koslow, whose dad is a vet, the Siamese cats in the title are part of a mix-up at Leigh's dad's veterinary clinic, but they're not an important part of the story. Although Leigh does have a cat of her own, it isn't a Siamese.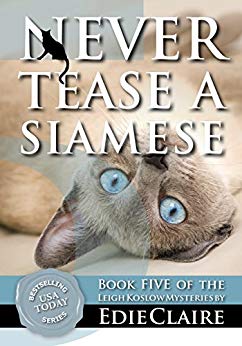 Never Tease a Siamese - a Leigh Koslow Mystery
There are, however, several Cozy Mystery series in which Siamese cats are owned by the lead characters.
The Georgie Shaw Cosy Mysteries by Anna Celeste Burke is (currently) a nine-book series and as you'll see, each of the covers features a Siamese cat. The cat in question, Miles, is owned by the series' protagonist, Georgie Shaw, who is thrown into a series of murder mysteries - and also, a love affair with a handsome detective!
Then there's the four-book Sarah Blair Mysteries series, in which the heroine combines a love of Siamese cats with a love of cooking - each of the novels finishes with a recipe or two for food that features in the book!

And finally, there's 'The Cats That ...' series of eleven novels by Karen Anne Golden, which to my mind is probably the most similar to Lilian Jackson Braun's books.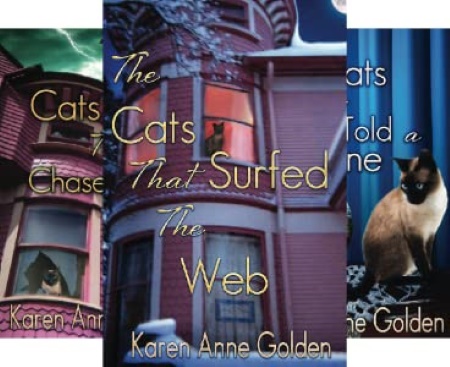 Karen Anne Golden's 'The Cats That' Cozy Mystery series
The heroine, Katherine "Katz" Kendall, inherits a fortune and a huge house in Erie, Indiana, from her aunt (not unlike Jim Qwilleran's inheritance in The Cat Who ...) on condition that she lives in the house, and her Siamese cats always play a role in solving the mysteries.
I'm still working my way through the three series above - but if you enjoy Cozy Mysteries, you may also enjoy these ones!
Meezer(s) of the Month

Like the hero of That Darn Cat, one of our Meezers of the Month for May isn't a Siamese cat at all.
Regular visitor to our Facebook page, John Broemelkamp, commented on a photo of his three cats to say that his black cat Mira was really an 'Undercover Meezer'.

Mira lives with two Siamese cats - young Lando Catrissian, seen here enjoying his position at the 'top of the heap', and older boy Han Solo, who's taking a well-earned snooze in the photo. Mira, at the bottom, has found the brightest, warmest sun puddle on the stairs!
Thanks to John for sharing his beautiful trio with us.

Undercover Meezer, Mira, and her 'brothers'
Photo with thanks to and copyright © John Broemelkamp
Tail End ...
I hope you've enjoyed this month's literary meanderings. I'll be taking a short break in June but Meezer Musings will be back at the end of July.
For many of us, after a seemingly never-ending winter, the days are finally warming up and I hope you and your Meezers are able to enjoy some cozy sun puddles together!

Caroline

Missed a Meezer Musings? A list of previous newsletters can be found here.


Some of the articles and newsletters on this site may contain links to products I think you may enjoy. If you purchase through these links I receive a small commission, but there's no extra cost to you. Find out more on the Affiliates Disclosure page.


Have You Discovered Our Newsletter?
If not, why not? Subscribe to our email newsletter, Meezer Musings, to stay in touch, be the first to see new information and pages as they come out, and read the things we only talk about in the newsletter.

Learn more about it on our Newsletter Sign-Up page.