Meezer Musings: February/March 2022
Good Companions

"The best laid schemes o' mice an' men
gang aft agley"
Robert Burns: To A Mouse

Welcome to the March issue of Meezer Musings! This should have been February's newsletter but, as our opening quote from 1785 by Scottish poet Robert Burns notes, even the most careful planning can sometimes go wrong.

Or, as John Lennon wrote, in more modern terms, "life is what happens to you when you're busy making other plans".
I'd intended to send this out a couple of weeks ago, but life had other ideas. A medical emergency put my husband in hospital and although he's now at home, everything that didn't involve looking after him had to be put on hold.
And then all of a sudden I looked up and discovered that it's the middle of March.
Happily, today is the feast day of St. Gertrude of Nivelles, who is, amongst other things, the patron saint of cats. (She's also the patron saint of travelers and gardeners, and is said to protect against mental illness, rats, and mice!)
St. Gertrude shares her special day with a more famous saint - St. Patrick - so I thought we'd begin with one of AmyLyn Bihrle's beautiful paintings; a St. Patrick's Day tribute of a Siamese cat in a shamrock and lucky clover field. (Shamrocks are the three-leaved ones - lucky clovers are, of course, four-leaved.)

Three's a Crowd?

One of our Facebook visitors asked an important question a few weeks ago. When Liz first got her gorgeous boy, Cookie, she was working from home so she was able to keep him company.
Cookie
Photo with thanks to and copyright © Liz Bateman
Liz now has a new job and she's not at home as much as before. Because of this she's planning to get another Siamese cat, a little blue point girl, to keep Cookie company.
Cookie loves to play with other cats and Liz didn't want him to be lonely, so providing him with company is an excellent idea. However, Liz was worried that Cookie wouldn't be as affectionate towards her, if his affection was transferred to a feline companion.

Liz's question, therefore, to other cat owners with more than one cat was:
"are two Siamese cats still as affectionate with you
if they have each other to love?"
The comments from everyone who replied to Liz's question were overwhelmingly positive. Some responders had two or more cats, some had a cat and a dog (or several cats and dogs).
Everyone said that despite (or perhaps because of) their other animal companions, their cats were just as loving towards their human family too.
If anything, their affection for their owners was increased by the competition, with cats vying for favorite spots on laps, sofas and beds.

Two's Company
Animal behaviorists will tell you that cats are, in general, solitary creatures, but Siamese and Oriental cats do seem to crave companionship, whether human or animal, perhaps more than other cat breeds.
Most Siamese cats seem to enjoy having other cats around (although this isn't always the case, as my late-lamented Bandit was very territorial and hated other cats, perhaps as a result of having been a stray) so it's always worth considering getting a companion for them if you can afford it, and if they are alone a lot during the day.

However, older, bereaved cats may not always welcome another cat of the same age, and in this situation it's generally best to get a younger cat or kitten of the opposite sex, which is more likely to be accepted by the resident cat.

Meezer Memories

You may remember that back in January I mentioned that I was opening up our Siamese Cat Memorials page for new stories and we subsequently received two lovely memorials. I hope you enjoy them both.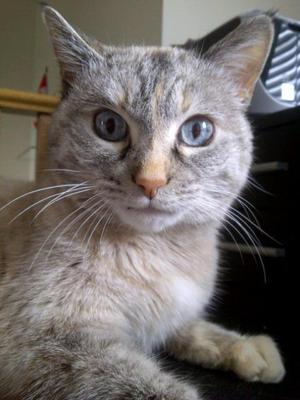 Taffy
Photo with thanks to and copyright
© Rhoda from Saskatoon, Saskatchewan, Canada
Taffy, Our Temporary Cat is the story of a highly colorful character who led her new owners quite a dance - and Buddies in Memoriam remembers Pumplan, a blue-gray Siamese-like cat (originally thought to be female who later turned out to be a 'he'!) and his friendship with a Chihuahua companion, Pancho.
Pumplan and Pancho
Photo with thanks to and copyright
© Karen McG from Tucson, Arizona, USA
A Plea to (Southern) Californians

Southern California Siamese Rescue needs your help and is looking for fosterers. As posted on their Facebook page recently:

IT TAKES A VILLAGE TO HELP SIAMESE CATS IN NEED! We are being forced to turn away Siamese cats in need of rescue weekly. We want to continue to help these cats, but it's impossible if they have nowhere to go, until they are adopted. We have a long wait list of approved adopters, and not enough cats to meet the demand. The few cats we can take in never make it to the website because of this.
The simple truth of the matter is; WE HAVE A SHORTAGE OF FOSTERS and URGENTLY NEED MORE TEMPORARY FOSTER HOMES! Kitten season is here, and that's when all rescues and shelters become overwhelmed. We want to be able to help these cats and kittens, as well as all the other adults in need, but we can't do it without your help! If you have a spare bedroom or bathroom, please consider becoming a foster parent.
You will be gratified knowing you saved a life! We pay all medical cost! To find out more about fostering, please email us for information at: info@californiasiameserescue.org
So, Southern Californians, if you think you can help by fostering a cat, please contact Southern California Siamese Rescue (details here).

Tail End (and National Siamese Cat Day) ...
My husband's health is making things a little uncertain just now, but I hope to be back at the end of April.
In the meantime, here's a reminder of a very special day - April 6th is National Siamese Cat Day! Make a note in your diaries to celebrate it and enjoy it with your cats with extra cuddles, games and, of course, a special treat or two.

For most of us, the days are gradually getting longer and warmer (and for some of us, the clocks have already 'sprung' forward!) and I hope the latter half of March and April bring you sunshine and Spring flowers in abundance.
A happy Saint Patrick's Day to all those celebrating today, and don't forget to drink a toast to Saint Gertrude too!

Caroline

Missed a Meezer Musings? A list of previous newsletters can be found here.


Some of the articles and newsletters on this site may contain links to products I think you may enjoy. If you purchase through these links I receive a small commission, but there's no extra cost to you. Find out more on the Affiliates Disclosure page.


Have You Discovered Our Newsletter?
If not, why not? Subscribe to our email newsletter, Meezer Musings, to stay in touch, be the first to see new information and pages as they come out, and read the things we only talk about in the newsletter.

Learn more about it on our Newsletter Sign-Up page.