Meezer Musings: October 2022
Safe As Houses?

Welcome to October's Meezer Musings! As you may have noticed, there wasn't a newsletter in September. Sadly, a combination of events derailed my efforts to send it out at the time, and October has flashed by.

We've had several months of upheavals around the world. Wild weather events have affected Canada (hurricane Fiona) and the USA (hurricane Ian), battering Canada's eastern coast and Florida respectively, both to devastating effect. There's also been major flooding in Pakistan, West and Central Africa, and parts of Europe and Australia.
Here in the UK, it's political turmoil that's caused the most disruption as we're now on our third Prime Minister in as many months, while the nation reeled at the death of Queen Elizabeth II.
Wherever you are, and whatever your particular circumstances, I hope that you've survived them safely. And "surviving safely" is the subject of Meezer Musings this month, as we take a look around our homes and consider some of the dangers lurking within.
Hidden Hazards

Several times lately my eye has been caught by social media posts and articles describing the dangers of plug-in (and other) air fresheners to cats and other pets.
Air fresheners are not the only things that might cause harm to an indoor cat. We've looked at some of these in the past, but not for several years so I thought that this month we'd take another look at cat safety in the home.
Fresh as a Daisy?

Chemical air fresheners, room sprays, plug-ins, oils and candles (as well as many cleaning materials) may all be toxic to cats. The danger comes from products that contain "volatile organic compounds" or VOCs.
These VOCs are designed to turn from their solid or liquid form into gases or vapors to disperse their chemical fragrances into the air. It's this ability to disperse into the air that can cause health problems both in humans and animals. These include:
Eye, nose and throat irritation
Lethargy, nausea, headaches and loss of co-ordination
Kidney, liver and central nervous system damage
VOCs are also suspected of causing cancer both in humans and animals.
We may think that air fresheners containing essential oils, which sound more natural, greener, and healthier than other chemical products might be safer to use, but this isn't necessarily the case. Some essential oils can also be toxic to pets so unless a product is specifically marked as pet safe, the advice is, if in doubt, it's always better to be safe than sorry and avoid any products you're not 100% sure of.

There's much more information in this article from PetMD, and in the related linked page from the US Environmental Protection Agency.
Lilies Can Be Lethal

Some years ago I was sent a bouquet of flowers by a kind friend. I was delighted to see, on the side of the delivery box, a warning about lilies being harmful to cats.
In my view this warning doesn't go far enough as lilies can be lethal to cats, but it's a good start. So many people still don't know about the hazards of lilies, and it's good to see florists doing their bit to spread this important message.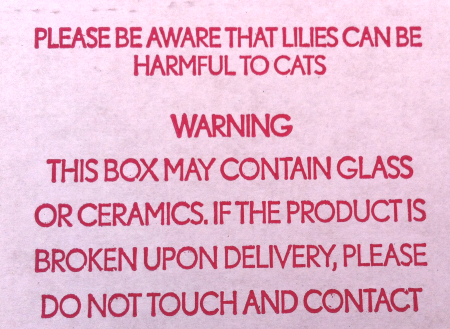 Lily warning on a flower delivery box
Lilies, and especially their pollen, are deadly to cats. Particularly dangerous varieties are Easter lilies, Tiger lilies and others with flowers that open up to a long stamen and pollen, but all members of the lily family, and all parts of the plant, are toxic if eaten as they affect the kidneys and in extreme cases, shut them down altogether.

Lilies are very often included in mixed bouquets of flowers where they may be difficult to spot. Sadly, some of our own readers have lost cats to lily poisoning or otherwise endured long, difficult and expensive stays in veterinary hospitals.
Many other common flowers and house plants pose dangers to cats if eaten and a full, and very long, list from the ASPCA can be found here.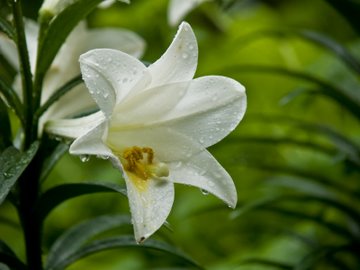 The Easter Lily - just one of many members of the lethal lily family
photo: © iStockphoto | Timothy Epp
Lysol – and Other 'Sols'

Our next warning relates to liquids containing phenols - the most common ones are disinfectants like Lysol, Pine-sol and Dettol, which can burn the mouth and gastric tract and do enormous damage to a cat's nervous system and liver if swallowed, with some cases being fatal.

I first heard about this in a report about a cat that walked past an automatic Lysol anti-bacterial handwash dispenser, got a drop of the soap on his coat, and then, on grooming himself, fell seriously ill. Happily he survived with urgent veterinary treatment, but it could have turned out very differently.

Pain Medication

It goes without saying that all human medications should be kept out of the reach of cats but one often overlooked problem is that of hand-applied creams and gels containing ibuprofen.
Hands should always be washed after applying any such pain medications as failing to do so can transfer the medication to our cats' coats where again, it can be licked off and cause harm.

Watch Out, Kittens About

Our final warning is about the hazards of washers and tumble driers.
Cats, and especially kittens, seem to love these and there are horror stories of kittens finding their way into washers or driers without being seen by their owner, who then switched the machine on without realising their cat was inside.
So always check your washers and driers for cats and kittens before starting a wash or dry cycle.

Remembering Livy

 Recently we received a delightful memorial from Joanne in Florida about her tiny chocolate point Siamese cat Olivia (Livy), who weighed in at six pounds!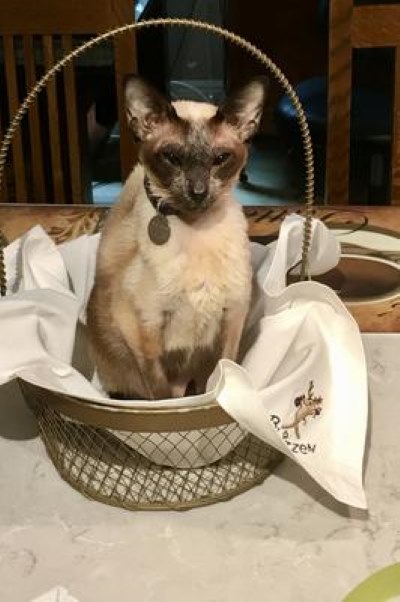 Tiny Livy
Image with thanks to and copyright © Joanne Latko
Livy was adopted from a vet after being brought in for euthanasia. She had swallowed a number of hair ties and needed surgery; it also transpired that she had nasal lymphoma. Despite this, after treatment, Livy went on to live for a further eight years, eventually succumbing to inflammatory bowel disease.
Livy loved to travel, ruled her roost and was a lesson in courage and grace. You can read more of her story here.

Foster Moms (and Dads!) Needed - Southern California

Southern California Siamese Rescue urgently needs more temporary foster homes. This is from their Facebook page:
WE NEED YOUR HELP!
It breaks our heart that we are forced to turn away Siamese cats in need of rescue, every single day! We hate it when we have to tell people we can't help them right now.
The simple truth of the matter is; WE HAVE A SHORTAGE OF FOSTERS and URGENTLY NEED MORE TEMPORARY FOSTER HOMES! Kitten season never really ended, and all rescues and shelters are overwhelmed. We want to be able to help these cats and kittens, as well as all the other adults in need, but it's impossible if they have nowhere to go until they are adopted.
If you have a spare bedroom or bathroom, please consider becoming a foster parent. You will be gratified knowing you saved a life! We pay all medical cost!
To find out more about fostering, please email us at: info@californiasiameserescue.org
Suzanne Le Good's 2023 Calendar

2023 is already on the horizon, and those of you who love (as I do) artist Suzanne Le Good's work will be pleased to know that her Siamese cat calendar for 2023 is now available.

As you can see below the calendar is filled as usual with Suzanne's gorgeous and delightful artwork. One of her calendars always hangs in my kitchen and helps to brighten my days. You can find the calendar for sale on Etsy - I've already received mine and can confirm that it's as lovely as ever.

Tail End ...

That's all for October but I hope to be back at the end of November when, as usual, we'll be in holiday mood and looking forward to the festive season.
Stay safe 'till then!

Caroline

Missed a Meezer Musings? A list of previous newsletters can be found here.


Some of the articles and newsletters on this site may contain links to products I think you may enjoy. If you purchase through these links I receive a small commission, but there's no extra cost to you. Find out more on the Affiliates Disclosure page.


Have You Discovered Our Newsletter?
If not, why not? Subscribe to our email newsletter, Meezer Musings, to stay in touch, be the first to see new information and pages as they come out, and read the things we only talk about in the newsletter.

Learn more about it on our Newsletter Sign-Up page.