Meezer Musings: April 2022
In Praise of Rescue

Welcome to April's Meezer Musings. I do hope you celebrated National Siamese Cat Day on April 6th!
National Siamese Cat Day was created in the spirit of 'Adopt, Don't Shop' and coincidentally today, April 30th, is another 'adoption' day as the USA celebrates National Adopt a Shelter Pet Day.

Last month's Meezer Musings included a plea from Southern California Siamese Rescue for volunteer foster carers. Rescue has such a huge role to play in finding good homes for Siamese cats - it is, for many of us, where our own cats came from - that this month's newsletter is dedicated to the Rescues, and the rescuers!
But First, a Look Back

April Fool's Day is as good a day as any for a Siamese cat to enter your life, and, given the fact that Siamese cats are notable jokers, it's probably a highly appropriate one.

On April 1st 2008 I got into my car and made a four-hour round trip to collect a seal point Siamese cat I'd arranged to adopt from my nearest Siamese Rescue.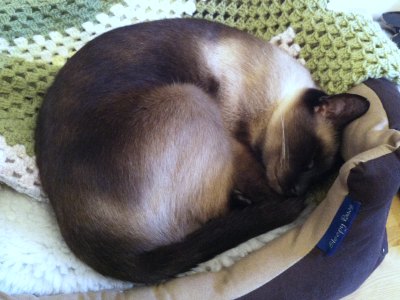 Bandit. Forever Home
That cat was my much-loved and now much-missed Bandit. He wasn't called Bandit back then, in fact he didn't have a name. He'd been at the Rescue for about four months, but because he was a stray off the streets they hadn't named him, preferring to wait until either he was claimed by his rightful owners or adopted by someone else.

He was a beautiful cat who'd obviously been well cared for. Surprisingly, his owners never came forward, and the someone who adopted him was me. I didn't know then quite how much my life was about to change.

Rescue Cats Often Come With Baggage

Bandit was a friendly and easygoing cat who settled quickly into our lives. He soon made himself at home, ate everything put in front of him, and (usually) knew how to use a litter tray.
However ...
It turned out that he was also an extremely territorial cat (possibly because he'd been a stray) who hated other cats in anywhere that he considered his personal space.
He'd note his displeasure at their presence by scent marking all the entrances to the house - anywhere he thought another cat might be able to get in. The front door, the back door, the garden doors - and that meant we had to be very careful, and learned very quickly how to deal with what is coyly called 'inappropriate urination'.
Rescue cats often come with baggage, especially if they've had a tough earlier life. You never know quite what you're going to get.
The terrified ones will want to hide away; some may have litter box issues, others may respond by lashing out with teeth or claws; and some may just be very, very sad.
Most rescued Siamese cats, though, will become happy and loving pets if given enough reassurance and love and allowed plenty of time to settle into their new homes.
Why Do So Many Siamese Cats End Up in Rescues?

I find it astonishing that so many Siamese and Siamese mix cats end up in rescues or shelters or abandoned, but the existence of so many Siamese breed-specific rescues proves that they do.
I often wonder what it is that causes people to abandon, mistreat, or relinquish cats they must have felt they could love at some point.
Here are just some of the reasons that Siamese cats might end up in shelters:
Owner's death

Divorce
Imprisonment

Illness

Arrival of new baby in the family

Purchase of new 'more exciting' pet

Relocation to accommodation that doesn't allow pets

Allergies
Illness of cat, or ongoing health conditions that are difficult to manage

Declawing (declawed cats often end up in rescue centers as it often results in behavioral problems)
Biting, nipping or scratching
Abandonment

Hoarding situations
Poor cattery management
As you can see, reasons are many and diverse and these are probably just the tip of the iceberg.
Can You Help?

There's a list of Siamese rescue centers around the world (that I know about!) on this page.
Most of them are staffed by volunteers who spend their time rescuing and socializing cats, cleaning out cages, raising money (the need for funds is endless), providing veterinary care, and often providing transport to get the cats to their new owners.
If there's a center near you, do please consider offering them a little of your time, money, or even a donation of cat food or blankets.
Rescue organizations are very often faced with more requests for assistance than they can handle, with limits on space, staffing, supplies and finances. All rescues are generally grateful for:
Financial donations
Contributions of food, cat litter or other supplies (some rescues have wish lists on Amazon)

Volunteers to help clean cages, socialize cats, or help with administration

Fosters. Many rescues don't have the facilities to be able to keep all the cats who need shelter - lodging cats in foster care is one way of helping more animals.
Transport. Some rescues operate networks of transporters who help to move cats both into care and then out to new homes.

'Kitten Season' - a Story

The Spring months are known as 'kitten season' by rescue centers and shelters. It's the time when feral cats have their kittens, and also the time when kittens bought as small cuddly Christmas presents start turning into adult cats, and risk being dumped as a result. All of which results in an influx of young cats into the shelters.

Some years back, in the days when Bandit was still with us, I had personal experience of this when a black, male, just-older-than-kitten stray wandered into my garden. He wasn't neutered and had obviously been beaten up by other cats. Skinny and starving, but surprisingly friendly, he wasn't in a hurry to leave.
Stray cats often carry diseases and fleas so we couldn't take him into the house. I gave him some food and made up a bed for him in a box to provide some shelter for him outside overnight and the next morning he was still there, and still very hungry.
I would have liked to keep him, but as noted above, Bandit didn't welcome other cats and was already howling the place down at the thought of another cat in his garden.
So, rather sadly, after phoning the local vets to make sure the little cat hadn't been reported missing, I turned him over to a local shelter where was cared for, neutered and eventually put up for re-homing.

Little Black Stray
Homes for Meezers
If you'd like to give a home to a rescue cat a good place to start is our list of Siamese Rescues, as well as checking with your local Humane Society, other local shelters, or pet shop adoption events.
If you're in the USA, you could also try Homes for Meezers, a public Facebook group that exists to find forever homes for Siamese cats in shelters or in foster care, or being rehomed by their owners. The group has been in existence since 2020 but I've only just discovered it, so you may like to know about it too!

Rescue Meez
No page on rescue would be complete without mentioning Siri Zwemke's Rescue Meez.
Siri founded the Siamese Cat Rescue Center of Virginia (from which sprang many of the Siamese Rescue centers in the USA) and in her book she writes lovingly about her experiences of over twenty years of rescue.
Honest and at times heartbreaking, it's highly recommended for all Siamese cat lovers. If you haven't read it yet, do!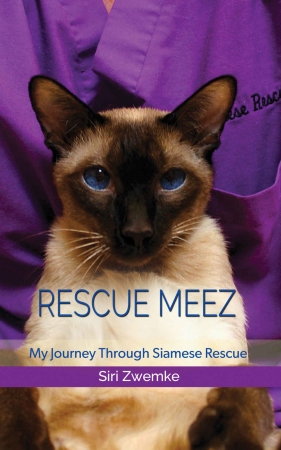 Tail End ...

A few people contacted me recently to let me know that they didn't receive an email about last month's Meezer Musings. This seemed to affect older, hotmail-type email addresses, and I'm still not sure why it happened.

But if you ever think you may have missed an issue, a list of all existing newsletters can always be found by using the link underneath my name below, or by visiting the Site map and scrolling down to the newsletters section.
That's all from me for this month but I hope to be back at the end of May. Meanwhile, enjoy the changing of the seasons, wherever you may be!

Caroline

Missed a Meezer Musings? A list of previous newsletters can be found here.


Some of the articles and newsletters on this site may contain links to products I think you may enjoy. If you purchase through these links I receive a small commission, but there's no extra cost to you. Find out more on the Affiliates Disclosure page.


Have You Discovered Our Newsletter?
If not, why not? Subscribe to our email newsletter, Meezer Musings, to stay in touch, be the first to see new information and pages as they come out, and read the things we only talk about in the newsletter.

Learn more about it on our Newsletter Sign-Up page.