Meezer Musings: January 2022
Bits and Pieces

"For a cat, Tink was an odd duck.
Perhaps it was because he had been raised by a grannyman ...
Or maybe it was because his brain was the size of a frozen pea."
Bits & Pieces: Judy Schachner

Welcome to January's Meezer Musings, and, while we're still (just) in the first month of 2022, a happy New Year! And a very warm welcome, too, to you if you've joined us in the last two months.

A new year usually brings with it the hope of better days to come, but in our still Covid-dominated world, this year that may not necessarily be the case and I hope that January has treated you gently and well. I also hope you haven't had to cope with too much ice and snow - unlike our friend below, by artist AmyLyn Bihrle!
This is a slightly shorter newsletter than usual; I've had to cope with some (non-Covid-related) illness in my immediate family, as well as discovering that some faraway family members have recently been struck by Covid.
Each of these has brought attendant anxieties but for the moment all is well, and I wanted to send you a quick update about what's been happening here at Life with Siamese Cats, and a few 'bits and pieces' that I've been working on.

Cats on the Page!

Our opening quote this month is from Judy Schachner's beautifully illustrated children's book Bits & Pieces. This tale follows on from her much-loved earlier book, The Grannyman, both of which you can read about on our page dedicated to these books as well as to Judy's other Meezer hero, Skippyjon Jones.
Bits & Pieces is about Tink, first introduced as a kitten in The Grannyman, who has now reached the ripe old age of 20.
Tink has always wanted to explore the great outdoors but he has no common sense ("his brain was the size of a frozen pea"), and when he escapes for a night of unforgettable adventure before being rescued by two sharp-eyed little girls, he comes to understand just how much he means to his family.

I was reminded about Bits & Pieces recently as it's included in a new page that I've just published. If you've been following Meezer Musings for a while you may remember that last May I wrote about books with Siamese cats as the heroes, from early novels like The Incredible Journey and That Darn Cat! all the way through to the latest Cozy Mysteries.
In that newsletter I mentioned that I was working on some new book pages, and I'm happy to say that these are finished! They are Siamese books for adults, and, for our younger readers, Siamese cat books for kids.
I hope you'll hop over and read them, and I hope you enjoy them! And if you have any particular favorites that don't appear on either page, do please let me know and I'll be happy to add them.

Meezer Memories

Once upon a time, before social media existed in any form and way before Facebook and Twitter, Pinterest and Instagram (not to mention TikTok!) took over our lives, I used to accept people's stories for publication here on Life with Siamese Cats and we received many interesting submissions about behavior, cats' names, rescued cats and all kinds of other things, including poems.

When social media really took off and people became more accustomed to sharing their stories on those platforms, I closed most of the pages where you could submit stories here but recently a few people have asked how to do this, so gradually, I'm going to reopen some of these pages again.

The first of these, now open, is on our Siamese Cat Memorials page. This is a page that gathers together people's memories and stories of their cats that have passed - including beautiful tributes like Generations of Siamese; Lucy Rose, My Loving Companion; and Daisy, the Best Siamese Cat in the World.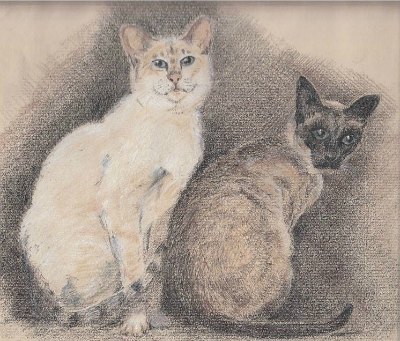 Thomas and Purdy - remembered in 'Generations of Siamese'
If you have a story or memories you'd like to share about a much-loved cat in your life who is now over the Rainbow Bridge, you can now do so.
For the moment, because approving and editing the submissions takes time, this is the only page where stories are being accepted but over time I'll look at opening up to other stories too. Watch this space!

From Memories to Valentines

Valentine's Day is coming up soon! A while back I put together a dedicated Valentine's Day page featuring Siamese cats.
So this is my Valentine card to you. Do head over to that page to see how Siamese cats are celebrating and celebrated.

Tail End ...
January is not my favorite month. It seems to go on forever and here in the UK the days are usually dull, gray, and wet. I'm always glad when February comes along! By now the darkest months of the year are behind us and the days are gradually getting longer.
I hope you have a safe and healthy February, and let's hope that 2022 brings all of us health, happiness, and love. Happy Valentine's Day!

Caroline

Missed a Meezer Musings? A list of previous newsletters can be found here.


Some of the articles and newsletters on this site may contain links to products I think you may enjoy. If you purchase through these links I receive a small commission, but there's no extra cost to you. Find out more on the Affiliates Disclosure page.


Have You Discovered Our Newsletter?
If not, why not? Subscribe to our email newsletter, Meezer Musings, to stay in touch, be the first to see new information and pages as they come out, and read the things we only talk about in the newsletter.

Learn more about it on our Newsletter Sign-Up page.