Bead Retrieve and Catch
by Ellen
(New Brunswick, Canada)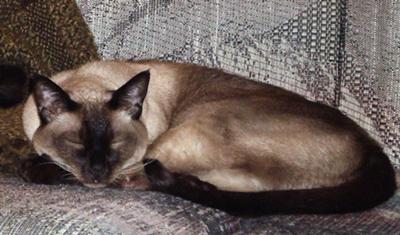 Dax in a quiet moment
Dax, my Seal Point Siamese had a favourite game when she was younger.

She loved stringed beads, and would retrieve tossed ones for as long as I had the energy to play. When I had had enough, she would play toss and catch by herself, tossing the the beads in the air and then catching them.

I don't know for sure, but it makes sense that she amused herself this way when home alone, since the beads were never where they were left in the morning when I came home after work.

Sadly, Dax passed away (at the age of 17) last month. I miss her so very much, but the image of her bead-antics will always remain with me; and it will always bring a smile to me... sometimes, through the tears.


Reply from Caroline:
Ellen, thank you so much for sharing your lovely photo of Dax and the story of her bead-catching antics.
She was a gorgeous cat, a lovely example of a Seal Point, and I'm sure you must miss her terribly.
It's always good to have memories like yours of her playing with and catching her beads, to remind you of the fun times.
Seventeen is a good age for any cat. I hope that at some stage you'll feel ready to take on a new cat or kitten again (if you haven't already done so!)
Enjoy this? Find more memories:
---
---
If you enjoy our work, why not
sign up for our newsletter,
Meezer Musings?

An opportunity to share my reflections on life with
Siamese cats, stories in the news, photos, tips, goodies,
and our Meezer of the Month!

---
Like us? Please share us with
your Siamese cat-loving friends


---

Home  .  Sitemap  .  Privacy Policy  .  Affiliate Disclosure  .  Resources  .  About  .  Contact
Information provided on this website is not intended to replace professional advice. If you have any concerns at all about your cat's health, please consult a vet.
Copyright © 2009-2019 Caroline Haines, Life with Siamese Cats. All rights reserved.


---