Cry Baby, My Lynx Point Siamese
by Breanne
(Mexico City)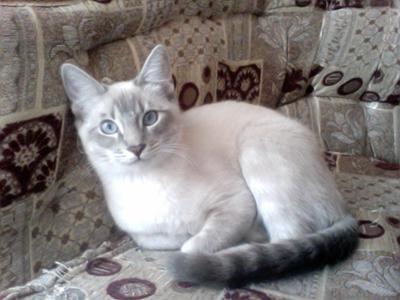 7 months old
Cry Baby is half Domestic Shorthair (tortie) and half Siamese. Her father is one of the feral cats that live in the local transportation center. The entire colony is made of up wedge type Siamese cats.

I got Cry Baby when she was around five weeks old from the groundskeeper at my university in Mexico City, where I still live and study. This is a normal age for kittens to go to new homes here, unfortunately.

Her being so young is where she got her name, as she would cry as soon as she was alone and seek me out. She was bottle-fed for a while and then transitioned fairly easily to solid kitten food.

She is now a rambunctious seven-month-old with striking blue eyes and a bold personality.

She loves shoes and will attempt to steal them off your feet, if given half a chance!

So far she has had no health or behavior problems, and I hope to have her in my life for a long time to come.


Reply from Caroline:
Welcome, Breanne and thank you for sharing your pictures of Cry Baby.
It's fun to see a Lynx Point Siamese (from her pictures she looks like a Blue Lynx Point) at different stages of development - the changes and darkening color patterns are quite apparent.
She has a gorgeous face and tail!
Interesting that she clearly inherited her father's Siamese genes and not (from the look of her) any of the tortie ones. How fascinating to have an entire colony of feral Siamese.
Well done you for bottle-feeding her and bringing her up so well - five weeks old is very young for a Siamese kitten to leave its mother, but you must have done a great job as she certainly looks very happy and contented.
More about lynx points and other less well-known Siamese colors:
Have You Discovered Our Newsletter?
If not, why not? Subscribe to our email newsletter, Meezer Musings, to stay in touch, be the first to see new information and pages as they come out, and read the things we only talk about in the newsletter.

Learn more about it on our Newsletter Sign-Up page.