I'm Darla - What Kind of Lynx Point Siamese Am I?
by Amy
(Evergreen, La)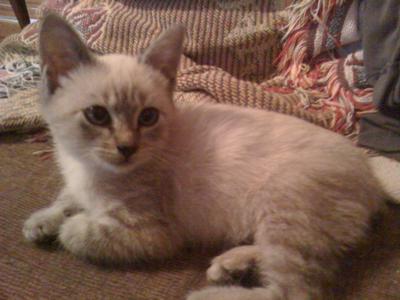 What color lynx point Siamese am I?
We acquired Darla from our son. He found Darla on the side of the road one night abandoned.

He would have liked to have kept her but both he and his wife are allergic to cats. So he brought her to us. She has all the markings of a lynx point Siamese, just not sure of the color.

Her eyes are the gorgeous blue of your typical Siamese, she has the M on her forehead, darker color on all points except tail (it had been all but been completely destroyed, we're thinking from a vehicle engine and had to be amputated; she now has the cutest little stump), and paws (her paw pads are a cross between dark gray or brown and dark pink) and striping on her face and legs.

All darker colors appear to be darkening.

She is playful, sweet, loves attention, talks when she wants something, and likes to cuddle. She is approx. 5-6 weeks in these pictures, she is now 7 weeks. I will enclose a few pictures to see what you think. The picture you have on your site showing the lynx point Siamese, looks just like her only an older version.

Our vet could not tell us exactly what breed she is, only that she may be Siamese. He's more into dog breeds than cats.

Any help would be greatly appreciated.


Reply from Caroline:
Hi Amy, thank you for sharing your lovely story about Darla.
Your question about her point color sent me back to my books as it can be difficult to identify Siamese coloring from photos, especially when you don't know what color the parents were.
In my opinion, at the moment Darla looks most like a Lilac Lynx (Tabby) Point. Lilac is a dilute, or lighter version of, Chocolate, and in a Lynx Point this coloring may appear as brownish, especially where a red tabby may have been involved somewhere in the mix.
So that's my best guess. She's gorgeous, and it will be interesting to see how her color changes as she gets older.
Interestingly, I received another query about coloring on the same day as yours, which you can see here
What color is this little guy?
Where to next? You might also like:
Have You Discovered Our Newsletter?
If not, why not? Subscribe to our email newsletter, Meezer Musings, to stay in touch, be the first to see new information and pages as they come out, and read the things we only talk about in the newsletter.

Learn more about it on our Newsletter Sign-Up page.