What Color Is This Little Guy?
by Heather Anderson
(Gilroy, CA)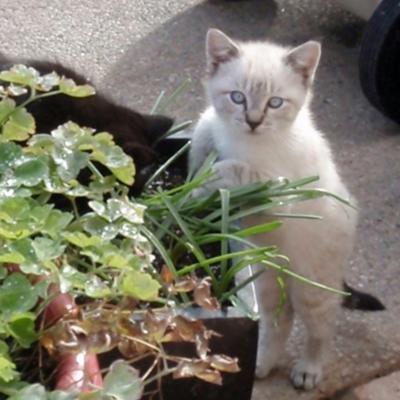 I am wondering what color this little Lynx Point might be.

I originally thought it was a Blue Point (I grew up with Korats) but now his tips are much darker. They're not really brown though. They very much match the grey tabby mommy's darker colors.

He's a stray that has taken to hanging out in my backyard.


Reply from Caroline:
Welcome Heather, and thank you for sending in your photo of your little stray - he's a real cutie!
It can be difficult to identify Siamese colors precisely from photos, especially without knowing the colors of the parents of the kitten, but you said the mom is a grey tabby and because of this I tend to agree with you - I think he is a Blue Lynx Point (more by process of eliminating the other colors than anything else) but if he continues to darken up he could turn out to be a Seal Lynx Point.
Coincidentally your question arrived on the same day as another color identification request, which you can see here -
What kind of Lynx Point Siamese am I?
More Lynx Points from our visitors:
Have You Discovered Our Newsletter?
If not, why not? Subscribe to our email newsletter, Meezer Musings, to stay in touch, be the first to see new information and pages as they come out, and read the things we only talk about in the newsletter.

Learn more about it on our Newsletter Sign-Up page.